Some interesting information with UK Hitwise claiming that "social network sites now receive more UK Internet visits than search engines…..May was the first ever month that social networks have been more popular than search engines in the UK."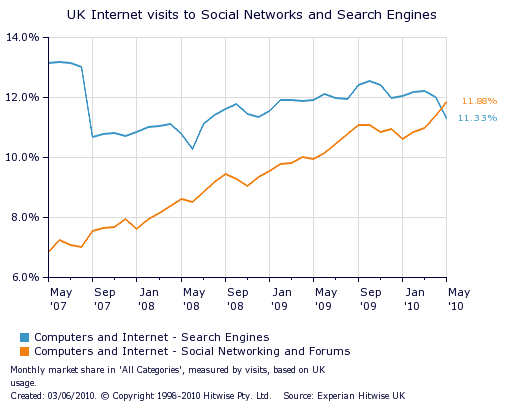 Of the social network sites visited in the UK, Facebook accounts for 55% of all visits, almost three times as many as the next most popular social network.
The really interesting bit of the graph put together by Hitwise is the steep growth of social networking sites, opposed ot the pretty flat line for search engine visits.
I, for one, certainly expect that growth to continue.
You might remember back in April I wrote "Why Social Networking Is Going To Kick Search Ass" – looks like I might even be on the money (there's a first for everything!).
Cheers