Partner with Tailored Media today and earn passive income
It only takes 30 seconds!
We get it.
You're always getting asked by your clients for recommendations to quality providers of aligned services, whether that be web design, digital marketing, SEO, TV ad production or any range of things.
But it can be difficult on the Gold Coast to find quality providers of services. Someone you can trust.
With a solid 20 year history as a full-service advertising agency on the Gold Coast, specialising in online work, we are here to help you bridge that gap – at the same time providing you with some passive income.
We've started our very own Partner Program. It's where we partner with firms just like yours, to help your clients with the services that you don't offer.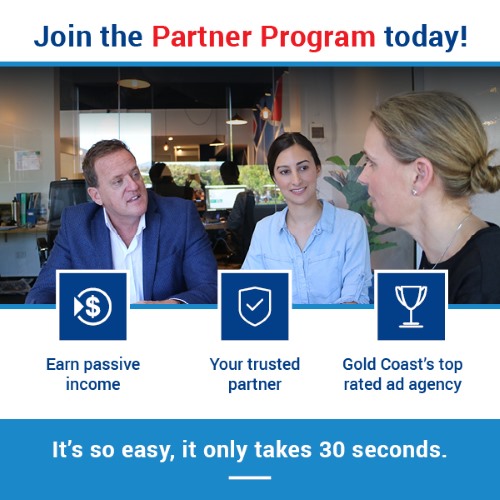 20 years of safe hands

 with Gold Coast's top-rated ad agency
We're the team you can refer to knowing your clients will be in safe hands.

It's a simple program – refer any of your clients over and we'll provide a 10% commission on their initial contract within 7 days of receiving a down payment from the client.
We've worked with and referred clients to Tailored Media for many years now. Brendon and his team are awesome at what they do and are super easy to deal with. Communication between us is always great with a fast and positive outcome for all,"
Robyn Cropp, Eleven IT

Partner Program Examples
$12,000 web site development = $1,200 Partner Program payment
$5,000 SEO contract = $500 Partner Program payment
$2,500 design work = $250 Partner Program payment
How it works
It's super easy.
Step 1:  Simply contact us using the form below and let us know you'd like to join the Partner Program
Step 2:  Refer clients (let us know who – but we always ask clients who referred them) to us, your trusted partner
Step 3:  Receive 10% commission fee on their initial contract within 7 days of us receiving a down payment from the client
Of course, if you'd like to catch up for a chat or come on in and meet some of the team, we'd be delighted. If you have any questions please email us direct at partners@tailoredmedia.com.au or call on 07 5534 1228.