My son Jack (AKA Golden Boy) was recently a finalist in a major community awards here in Australia.
The winners were announced for each of the 4 categories at a formal cocktail party in Brisbane, complete with tons of food, drink and music.
It was a beautifully organised evening with nothing left to chance.
Let The Writing Begin
After the Awards Jack did something he always does.
He sat down and started writing.
The Chairman of the Awards,
the Operations Manager who organised everything,
the presenting politician and
every other Finalist
were all sent a Thank You/Congratulations letter from Jack.
Letters & Chocolates
Earlier this week Jack was awarded an RSL Youth Development Fund grant (worth over $5,000) to travel to New York next year and do some charity work.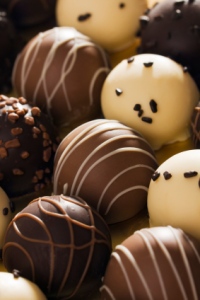 3 people at Jack's local RSL (Returned Services League) helped with his application.
Those 3 people today received a sincere thank you letter from Jack, along with a box of chocolates.
He also wrote a Thank You letter to the President of the RSL who awarded the grant.
Over 500 Handwritten Cards
After Jack completed his across Australia bike ride, he wrote a letter to every single supporter who helped him.
That was from his major sponsor to the Fahan School girls in Hobart who volunteered at a fundraising Cocktail Party to anyone who gave a donation.
500 handwritten cards with every single one having a personal message.
What You Don't Write Letters For
You don't write letters to get more business.
You don't send cards to aid your personal branding.
You don't give a thank you gift because you want something in return.
You do all that stuff because it's just good manners.
Sure, all those other things – like the personal branding, like the more business, like the increased opportunities – will come to you, but don't write those letters because of those things.
Write them because it's simply the right thing to do.
Bloody Simple Stuff That No-One Seems To Do
This stuff is bloody simple stuff.
But, like a lot of things these days, not many people seem to teach them.
When I wrote the Web Design Business Kit I included what I see as basic business manners aspects like writing letter.
It was only later that I realised that people don't know to take care of the little things and they don't know that these little things can be very, very important.
Here's My Top 3 List Of Little Things To Do
Use your manners – send thank you notes
Presentation matters – stop buy crappy clothes and splash out on decent stuff
Support those who support you – be a customer of your clients if at all possible
Cheers