A client (Elizabeth) asked for some examples of sites we've done the other day.
I made up a quick list and sent it through with a bit of a disclaimer:
"Whilst these are all fine looking designs, please understand that the success or not of a site is rarely about the design.
It's about all the other aspects from the marketing of the site, the interactivity, the content, the search engine rankings, the copy, the conversion testing, etc, etc."
Below is an example of a new site we're just finishing off (below it is the existing site for this client – we didn't do that one).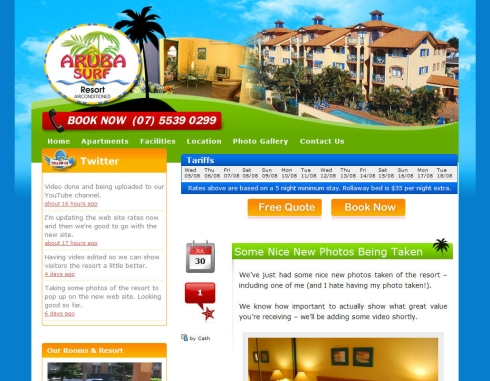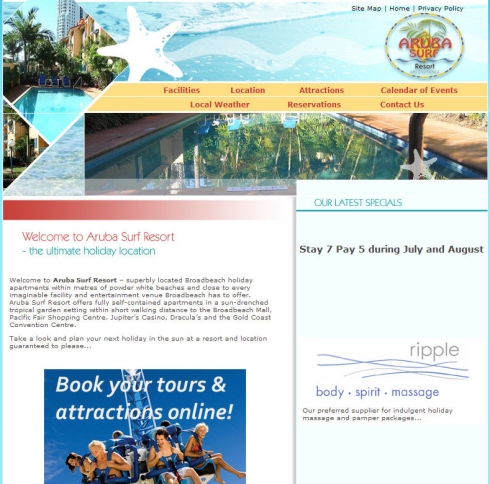 It Is Kind Of About The Design
What I said to Elizabeth isn't exactly true.
The design is critically important in that the site has to look good AND provide the right information at the right time to the potential customer.
As you can see, the new site has a ton of features the old site doesn't:
colourful and different design – catches attention
tariffs are at the top (not quite finished – the resort manager is filling that bit in today) – critical information to generate a lead or sale
the "Free Quote" button encourages lead generation
the "Book Now" button is right there on the home page – a simple call to action
big, bold and bright phone number to encourage phone contact (different people like to book in different ways)
Twitter account – means for a quick and easy update of what's happening and the ability to develop conversations with interested people
blog on the home page – great way to keep the site up to date and can be used for special offers, etc as required
video (under the Twitter account) – a great way to demonstrate the product
photo gallery – just keep demonstrating that product
Whilst all of the above will contribute to the success of the site, nothing happens until the visitor looking for a budget Broadbeach resort finds the site.
And that's why what I said to Elizabeth is true.
A successful web site incorprates:
a nice design,
a functional design to get your key information across,
great copy and
marketing, marketing, marketing.
Cheers