Google AdWords is an extremely powerful tool. No matter the size of your business, Google AdWords can work for you to make your business more successful.
Here we explain just how Google AdWords can work for you in our top 10 reasons your small to medium business need to employ Google AdWords.
#1 – Get right in front of customers when they are searching for you
Nowadays, whenever a person is searching for a product or service, the first thing the do is a quick Google search where they will view the first few results for the information they're after. Say you are a florist in Broadbeach, you'd want to be found for "florist Broadbeach". Notice that the first few results are ads, these are paid results using Google AdWords . The ads put all the right information in front of your target market in the exact moment they are searching for you.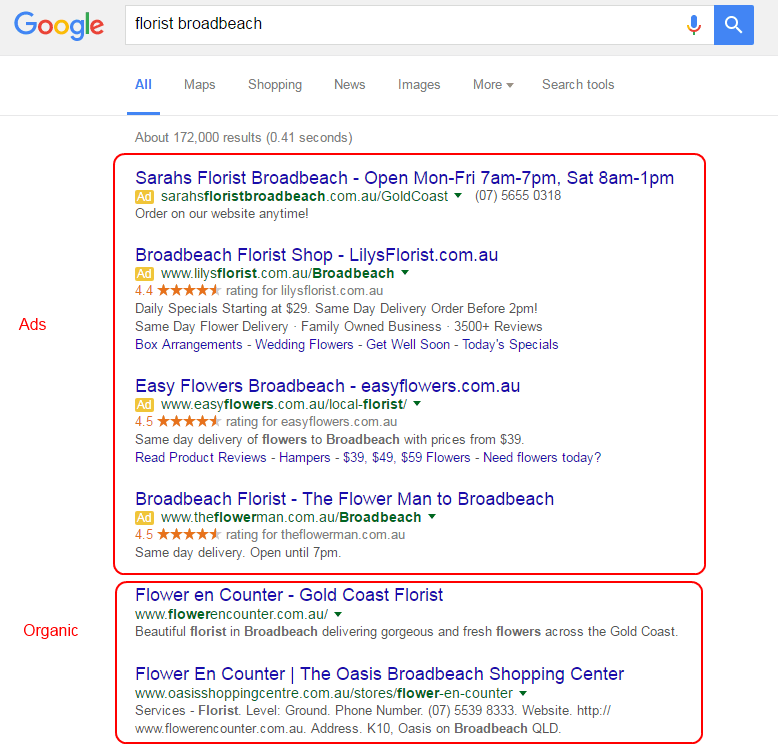 #2 – You can target a specific customer
Apart from targeting your customer by the search terms they use, you can also target your customer by location and other variables. Never waste your money marketing to customers who simply won't be interested in your product or service.
#3 – Measure your efforts
For every dollar you invest into your Google AdWords campaign, you can measure the results. You will see how many people viewed and clicked on your ad. From there you can even track how long that person spent on your website, what they viewed and if they purchased anything. It is pure gold!!!
#4 – Fine tune your campaigns
If you find your ads aren't working, you can always go in and edit your campaign. Change the search terms, budget, audience, everything. You should always be measuring your campaigns and testing new ways to reach your customers.
#5 – Give a direct response to your customer enquiries
You can run multiple Google AdWords campaigns at once. So while you can run a campaign targeting those searching for your product directly, you can also have campaigns running for more broad customer enquiries. Whilst, normally the more targeted the campaign the better, you could run a campaign using the search term "what flowers are in season in December". In this way, your business can help a customer find the information they need, develop credibility as a florist and build a relationship with the potential customer,
#6 – Give your brand more authority
Whilst the statistics on people who click on AdWords to those who click on organic results is around 20% to 80%, people do appreciate that your business shows up in the AdWords . AdWords help to build brand awareness, credibility and authority.
#7 – You can bring back in customers you have lost using Re-marketing
Google Adwords lets you create text ads which are then placed in the search results, but they also let you do so much more than that. Images, videos, interactive you name it. You can opt to create a re-marketing campaign that allows you to show ads to people you have visited your website and then left it to continue browsing the web. The ads are then shown in Google search or Google Display Network (a collection of over a million sites and mobile apps under the Google umbrella).
See how this company (ABC Bricks) has now got an image ad on news.com.au that gets shown to people to have viewed their site and then left. This type of behavioural marketing helps you stay top of mind and re-engage with customers you may not have sold the first time around.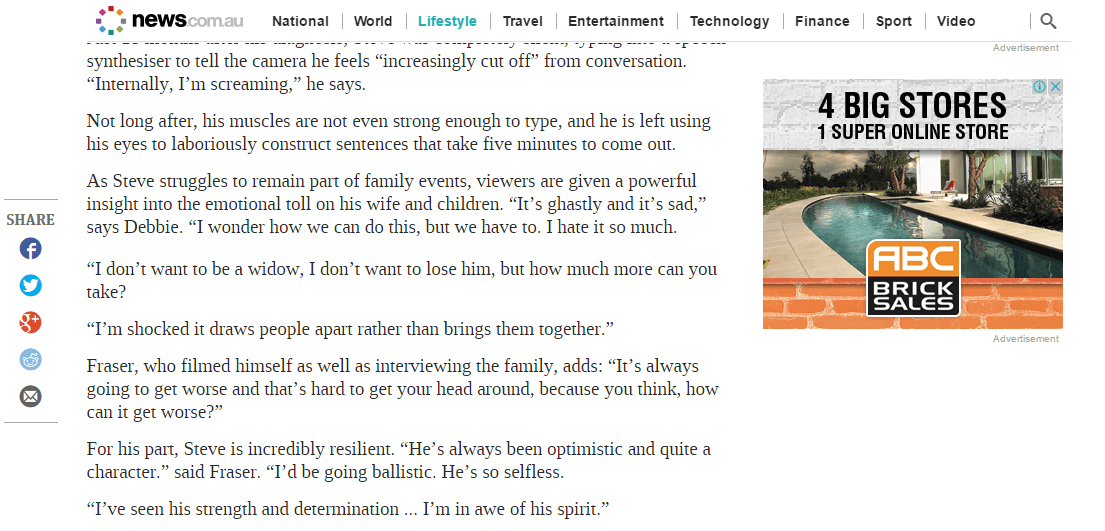 #8 – Choose your own budget
This is an important point for small to medium businesses. You can choose exactly how much you want to spend on your Google AdWords rather than a set amount. This lets you ease into the process and also allows you to test what works before blowing the budget.
#9 – You get access to many powerful tools
In creating a Google AdWords account, you have access to Google tools such as the Keyword Planner. A tool that helps you plan out which keywords should be used in your campaigns. You can also set up goals to help you track and measure you campaigns. See tip 3.
#10 – Google AdWords isn't scary and help is out there if you need it
The benefits of AdWords are endless!  Should you have any questions regarding the information given above – don't hesitate to contact our team here at Tailored.
Cheers