Just reading my brother Bryan's diary of cycling the length of New Zealand earlier this year.

He describes how, after a hard day's riding, he gives in and "does a Brendon".
What He Means
Just figured out that doing a "Brendon" means stay in motels, rather than Youth Hostels.
Eat in nice restaurants rather than cook up 2-minute noodles in the communal kitchen.
I started to be offended, but then realised it just means I'm smarter than him.
Oh, and younger.
And I have more hair.
And I'm taller.
And better looking.
Mum's favourite son
So to do a "Bryan" I could stoop, get heaps of wrinkles and go bald. ;o)
(Bring it on boyfriend!)
P.S: Think I'm kidding about being better looking??!  Check out Bryan in the photo below – he's the bald muppet in the white shirt.
Now tell me I'm lying!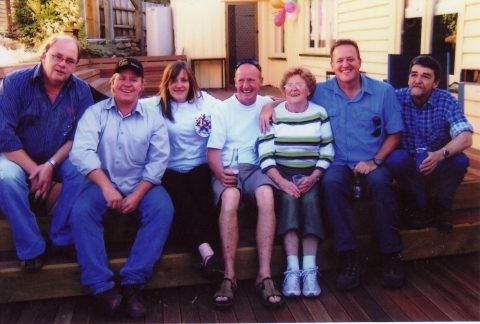 Cheers