We all want to feel special, and we can do that in business for others by remembering them.
On Saturday, Mel and I went out with a friend of ours for dinner.
Our friend had been at this restaurant before and soon after we were seated the owner came up to her and said:
The Owner Came Up To Our Table
"Hello!  You're the writer, you've been here before," he said.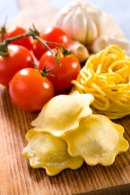 "Yes," our friend said.
"You sat at that table," said the owner, pointing at a table to the side.
"That's right," said our friend.
"You had the Ravioli Vegetarian," he went on.
"Yep," said our friend.
No Biggie…….Or So You'd Think
Quite interesting.  The owner remembers his customers, but many restaurant owners do.
No biggie…….or so you'd think.
The owner was right on all of those counts, so he obviously remembered our friend.
But here's the kicker.
He remembered her from 21 years ago.
Amazing.
Cheers