Little things matter in business and they matter a lot.
On Saturday some friends and I decided to go out for dinner.  There was 6 of us and we thought we'd try a local restaurant that had recently changed hands (the Boatshed at Currumbin).
It was 5.20 pm when I called to book a table.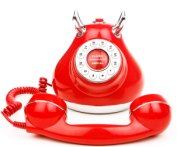 The phone rang and rang and I eventually got an answering machine.  I didn't want to leave a message re the booking as I needed to confirm right then and let my mates know for sure where we were going.
So we found another restaurant in the area (Little Asia at the Tallebudgera Golf Course), booked in and we were done.
We had a great meal with friendly service.  The final bill came to $210.
Missed Out On $210
So that's $210 the Boatshed business missed out on.
Then you have the kicker.  All 6 of us who went to dinner eat out very regularly.  We all have strong social networks within the suburb.
We're much more likely to frequent Little Asia again than try the Boatshed.
Without question the Little Asia restaurant will generate in an extra $1,000 revenue in the next few months from the 6 people who went – whether we go back or through referrals to friends.
Not Diverted The Phone Cost Big $$$
That's $1,000 the Boatshed owner could have had – if only he'd diverted his phone so it got answered.
Importantly, he's missed an opportunity to build his business, build his brand and connect with the right people in the local community.
Sure, we all miss opportunities.  It's about minimising the impact of those misses that's important.
Like I always say, business is bloody hard.  Give yourself the best possible chance of success by doing the little things.
Cheers