A new coffee shop opened up down the road.
The coffee shop is in, I thought anyway, a pretty bad position.
It's not really a "coffee shop" area – lower socio-economic area with a welfare office being the areas biggest employer, plenty of "For Lease" signs and a not so great local area reputation.
Small Space, Not So Relaxing Spot
The space the shop occupies is very small.  The environment ain't that conducive to relaxing.
I pegged it to last a few short months and then go the way a lot of the surrounding businesses go – to the wall, with a "For Lease" sign being the predominant feature.
Then I went in for a coffee.  Sort of to see what this new owner was doing (the coffee shop is my old barber's shop) and to buy something to help him out.
I'm A Friendly Guy…..
Now, I'm a friendly sort of guy.  I'll have a chat.
So when I wandered in and purchased a coffee, I had a friendly chat with the owner (I'll call him Dean…because that's his name).
He seemed like a lovely guy, he explained how his coffee was different from others and asked a few questions.
The coffee was just fine.
Anyway, a few days later I felt like a coffee and decided to call in again.
I was greeted with "Hello Brendon, another Flat White mate?  Loved our chat the other day – look mate, you gotta try one of my wife's muffins here.  There's this Lemon one and a Raspberry and Cream Cheese one.  They are magnificent!"
I got my coffee and something to eat and we had another chat.
"The wife has cooked us up some Banana Cake….."
Few days later I go back – "Heh Brendon!  Large Flat White?  Okay mate, today the wife has cooked us up some Banana Cake – it is amazing.
If you don't feel like that cake, then her Quiche slice is heaven.  You keen?  Heh, do you like the new art work on the wall – had a girl come in the other day and offer to paint it for a free coffee. What a deal!"
As Dean was making my coffee, another customer came in.
"Hi Dave, good to see you back mate.  Was just saying to Brendon here – Brendon this is Dave – that the wife has cooked us up some delicacies today – Banana Cake is made from our secret family recipe and if I told you what's in it I'm afraid I'd have to kill you, and her Quiche…..wow, I married her because of her Quiche!
Real men do eat Quiche and this is the Quiche they eat – what she does different is……………….!"
Needless to say, both Dave and I had coffees and something to eat.
As we left, Dean yells out a hearty "See you later guys.  Have a good day."
Community Involvement Building

Dean has started to get the community involved in his little coffee shop.
He now has:
curry nights (they get sold out within about 5 minutes) where he sets up large trestle tables and everyone eats side by side,
local small businesses can write their details on his internal walls in chalk,
special community events get extra space on the walls,
local community organisations have their leaflets throughout the shop.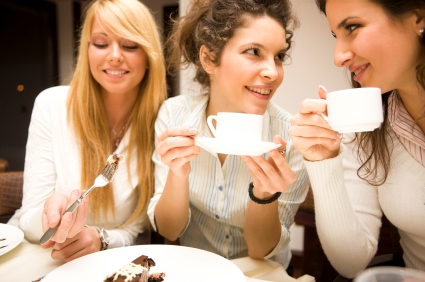 He advertises his food on the walls as "Wife Made Food".
He upsells like a demon in a very natural and effective way.
The Local Franchise Coffee Shop
I went to the local franchise coffee shop yesterday.
I went up to the counter to order and the 20 yo employee came over.  She stood at the till and waited for me to order my coffee.  So I did.
When I'd finished ordering she said "$4.50" and handed me back my change.
She went off and made the coffee.
When it was done she yelled out "FLAT WHITE".
I went up and collected it, sat down and drank it.
The disinterested staff wander around giggling amongst themselves, whilst the rubbish on the floor goes uncleared.
You see, they don't care about the business.
Which Coffee Shop Is Booming?
Dean's coffee shop is booming.
The franchise coffee shop seems to be dying.
The reason is simple enough.
Dean has built a sense of community, a sense of a place that is welcoming.  I was talking to someone the other day who described it this way:
"I don't feel like I'm going for a coffee.  I feel like I'm visiting a friend."
A coffee shop isn't really about the coffee.
It's about making people feel warm and wanted, part of a community and part of your special group.
Personality, service and caring does that.  And you can't teach most of that to people.
What can you do to upsell?
What can you do to build a sense of community within your business?
What can you do to build a better business?
Cheers