I've been away for a couple of weeks, taking a holiday with my son and daughter in Indonesia.  Lots of stories to tell…….and here's the first one.
You know how everyone thinks their customer service is best?
You know how some people like to tip good service?
Well, have I got a story for you.
You see, I stayed in Kuta on the Indonesian island of Bali a couple of times recently.
Stayed At The Grand Istana Rama
Both times I stayed at the Grand Istana Rama – it's a brilliant hotel on Kuta Beach, with absolutely committed and super friendly staff (I don't think I've ever been in a hotel with such a friendly and enthusiastic team).
A real oasis in the hustle and bustle of this thriving tourist town.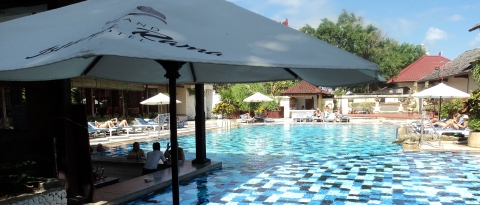 Anyway, one morning I had breakfast with the Resident Manager, Andi Ananto.
Whilst having breakfast I happened to comment on the wonderfully kind and efficient waitress Yasmin who had been my waitress a couple of times.
Andi said "She is wonderful" and then proceeded to tell me a little more.
Turns out an Australian family were staying in the hotel last year and had breakfast in the restaurant every morning.  Each morning they were attended to by Yasmin.
Yasmin's kindness and care impressed them day after day after day.
They Decided To Leave Yasmin A Tip
So they decided to leave Yasmin a tip.
Now, if you get good service you might leave 10% of the bill as a tip.
For great service, it might be 40% of the bill as a tip.
For breathtakingly amazing service you might give double the bill as a tip.
So good was Yasmin's service that this family gave more than that.
So kind, caring, helpful and sweet was Yasmin that the Australian family's tip was an all expenses paid trip for Yasmin and her family to Australia.
How good is your customer service – good enough for a customer to give you an overseas trip as thanks??!
Congratulations to the Grand Istana Rama for building such a terrific customer service culture.
Cheers