Note: I first published this 2 years ago – hugely popular article in terms of reads on this site and even more relevant today.
Okay, right off the top I better tell you this article is loaded with profanity and offensive comment.
If you're not comfortable with that, then don't read on.
Let's get straight to the point.
Facebook will screw you.
You are not amongst friends.
Facebook Is Going To Screw You
Facebook is, I have little doubt, going to screw the future of thousands upon thousands of its users.
And it's going to do it in such a way that the poor victims won't even know it happened.
The worst thing about it is the people getting screwed over are doing it to themselves.
You're amongst friends on Facebook, so you can be yourself.  Right?
Wrong. So very wrong.
You're Not Amongst Friends
You are most definitely not amongst friends.
The enemy lurks within.
And his/her name is usually yours.
A Facebook friend isn't really a friend.
More than that, let's be clear – Facebook isn't your friend.
The guys at Facebook simply can't believe the mountain of personal information users are giving it each and every day.
As Facebook founder Mark Zuckenburg said of users providing tons of personal information to Facebook: "Dumb fucks."
To understand how it's happening, all you need to do is take a different perspective with what people post on Facebook.
Meet Peter – He's Screwing His Future
Take a look at the Facebook 'Info' page of a 16 year old local boy I'll call Peter.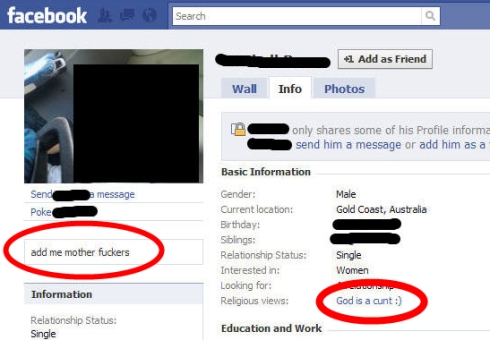 Because Peter and I have a mutual friend, I can see pretty much everything he has on his Facebook account.
As you can see, he happily shares his views on God.
A Different Perspective
Let's take the perspective that Peter hasn't – let's understand that what he writes is online forever.  Because it is.
Now Peter is a exceptionally talented soccer/football player here in Queensland – it's quite likely he could be considered to play representative soccer.
Where that could lead to is anyone's guess.
But I'm not guessing when I say that if a potential coach, selector or soccer administrator sees his Facebook account his chances of making that rep side are practically nil.
There is so much damage that sharing that religious view can do, it is simply idiotic to do it.
Let's guess how others with varying perspective might view this information:
Let's say that soccer coach is a religious man – Peter is no chance of making the team.
Let's say that soccer administrator understands the damage to the brand of the team and the sport this could potentially do – Peter ain't getting selected.
Peter doesn't have any awareness of just how offensive his Facebook page is.  That's obvious by what he has posted on it.
Even Barack Obama's advice to kids wanting to become the President of the USA was "Be careful of what you put on Facebook."
Same goes for Peter if he wants to get a job, become a teacher, become a lawyer, be a Scout leader, run for public office or any other number of opportunities that life might present.
If people judging him for any of these sort of roles finds this, his goose is cooked.
What Are Young Kids Doing On Facebook?
Now, you may think that's highly offensive. And you'd be right.
You may even question why I wouldn't edit out the 'c' word.
Well, here's why.
It's because that very same word is in plenty of the profiles I've looked at.
Which brings me to my next point.
Throwing A 10 Year Old To The Wolves
What the hell are young kids doing on Facebook?
A friend's 10 year old daughter is on Facebook and has various older friends (cousins, uncles, etc).
That beautiful little 10 year girl can see every bit of the profanity, sexual content and offensive stuff that you've seen here already and will see below.
What are her parents thinking?
Who in their right mind would allow their 10 year old access to the ramblings, photos and videos of complete strangers?
(One of the videos this 10 yo would have recently been exposed to via one of her 'friends' is of a chimpanzee in a zoo forcing oral sex from a frog – sounds weird and disturbing just writing about it!)
With the posting and messaging capabilities of Facebook, it's like dumping her in a room full of strangers.
Insane.  And dangerous.
The Local High School Kid
This next person is the captain of a local high school.  The majority of his Facebook friends (all 342 of them) would be, I'd guess, fellow students.
The way this guy communicated to many people on his Facebook page is via the charming phrase "Oi Cunts".
He's so fond of that expression that he was a proud member of the group called something like "Oi Cunt is a perfectly fine way to address people".
What an appalling example to his fellow students.
Here's some more from him: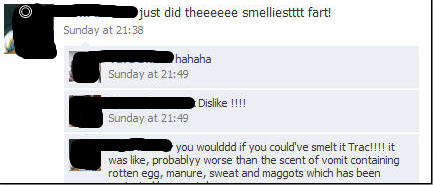 Sure, they all think it's funny… for now.   They might think he's quite the rebel, a bit cool.
Won't be so cool when he misses out on that $50,000 University scholarship when the University checks his Facebook profile and sees what a buffoon he is.
Dumbass.
Next up Is Angry Codey
Then there's angry 16 yo Codey (again, a friend of one of my Facebook friends – so I see his stuff).
His profile picture shows him dressed in the uniform of the local surf lifesaving movement here on the Gold Coast.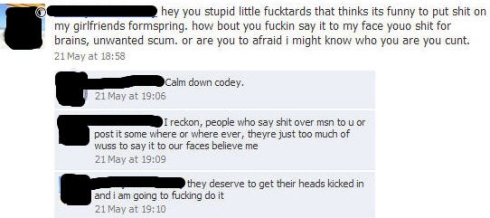 Let's say Codey here is going for that job he really needs.
If the employer, like 45% of employers do now, checks him out on Facebook, the chances of him getting that job are pretty much nil.
Let's see what we could make of Codey:
Aggressive
Poor conflict resolution
Anger management issues
Poor decision making
Wants to solve conflict with violence
Offensive
Immature
This is this person as a brand in many people's eyes.
Put simply, anyone who reads this kid's Facebook page will think a whole lot less of him.
Want To Be Robbed?  Facebook Can Help!
A mate recently won $11,000 on a horse race.
He was pretty excited about it and announced it to the world on Facebook.
I saw his post and gave him a call.
"Mate, congrats but I'd take that down if I were you.  You do realise your friend's friends can see your update?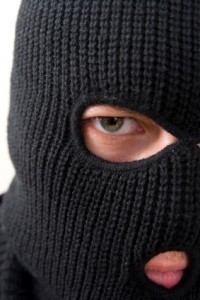 If you have 300 friends and each of those people have 30 friends, that's almost 9,000 people you don't know who you've told you have $11,000 cash sitting in your house.
Someone could figure out your address in 5 minutes from the information you have online and this guy on the right could be at your front door wielding a knife in 6 minutes."
Far fetched?  Well, no.  Here's how a 17 year old girl triggered a home invasion by uploading a photo of her 72 year old grandma counting a large sum of money at home.
My Sister-In-Law Told Every Local Thief Her House Would Be Empty
My brother and his wife recently visited my state for a holiday.
On her Facebook account my sister-in-law gave a countdown of days and hours before her and her entire family left to travel 3,000 kms away.
As I said to her at dinner half joking, "There's probably a guy going through your things right now – he knows when you left, he knows you haven't got a dog and he knows you're not coming back for a couple of days."
There's more and more comment on this stuff everyday (June 10, 2012).
Don't Want Your 60 Inch Plasma Anymore – Get Rid Of It With Facebook's Help!
Then there was another mate's son who announced on Facebook his dad had just purchased a new, huge TV.
That'll be gone by Tuesday!
Please Rob Me was a site set up to warn about oversharing with social media – it tracked social media data to let thieves know when you'll be out!
Why would you want to share sensitive information with tons of people you don't know?
Don't Think Changing Your Privacy Settings Will Save You
And don't think for one minute if you change your privacy settings that others/non-friends won't see what you write.
You see, Facebook haven't got such a great record at protecting your privacy.
And people aren't always who they say they are online.
That hot bikini model who just 'friended' you may be someone trying to deceive you ……..or worse.
Add in that researchers at VeriSign's iDefense group discovered a hacker was selling Facebook user names and passwords in an underground hacker forum.  He had about 1.5 million accounts – and was selling them for between $25 and $45!
Are you 100% sure you know all your Facebook 'friends'?
Are you the only one with access to your account?  Are you absolutely sure?
Miss Out On Uni, Lose Your Job, & Have Debt Collectors Chasing You
According to a 2008 Kaplan study, one in 10 college admissions officers routinely check out college applicants' Facebook and MySpace pages.   38% of them found posts and pictures that reflected poorly on those prospective students.
"Miss Swann was called into Stephen Ivell's office and fired on the spot before being marched from the premises in Clacton-on-Sea, Essex.

Yesterday, she said she was shocked at her treatment as her comments had been on a personal site and not intended to be seen by outsiders  –  least of all her employer."
Ha!  Good one Miss Swann!
"But the fact it was a private conversation between me and another girl from work … it wasn't even intended for the person I was writing about to read it," said Coles checkout chick Ms Marshall.
It ain't private Ms Marshall.  That's the thing that you just don't get.

45% of employers screen social media profiles – just imagine what they would find in potential employees (I have a client who refused to interview an applicant for a $60,000 pa position based on their offensive email address.  She saw it as reflecting very poor judgment. ).
You're Not Just Sharing With Friends
What it all means is that you're not just sharing your stuff with 'friends'.
You're sharing it with everyone forever.
Forever.

I'm Not Saying Don't Use Facebook
Look, I'm not saying don't use Facebook.
What I am saying is don't tell everything to your Facebook friends.
Assume your mum reads your Facebook account (because she probably will).
Assume your potential/future employer will read everything you write (because they probably will).
Assume your future son/daughter will read everything you write (because they probably will).
Be discreet.  Be measured.  Be sensible.
And remember this.
Facebook Doesn't Care About You
At all.
Facebook just wants as much of your private information as possible so it can make as much money from advertisers eager to get a hold of that data.
They'll happily encourage you to be indiscreet and screw up your entire life just so they can make a few extra $$$.
That's not right.
Use Facebook.  Don't let it use you.
Cheers