I had a call from a client yesterday.
We've been hosting her web site for a few years and doing minor edits on her site (it was designed by someone else about 5 years ago).
The web site has been working just fine and generating leads and sales of her product.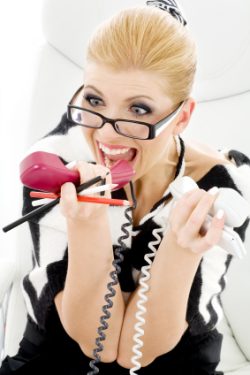 I always felt a new site with better information could increase her sales – but "If it ain't broke, don't fix it" is a difficult  philosophy to argue against.
Eventually the client asked us for a quote to redevelop her site and we set to work a few weeks back.  We launched the site 4 days ago.
Yesterday the client called me.
"You've created a monster!  The emails and phones haven't stopped.  I'll have to put someone else on to cope with the extra sales," she said.
Those Words Might Be Familiar
If you've read this site for any period of time those words might be familiar to you.
You see, they're almost word for word the exact same words another client said after we redeveloped their web site a few years back.
"Our new website was launched last Thursday and since that time we have been totally inundated with enquiries!
In fact, the website has been so successful in generating sales we have had to put both Leslie and Emily on for as many hours as they can manage to keep up with the continual emails and phone calls."
Increase Has Been 10 Times!
I did the math on this latest site, and in the leads and sales have increased x10 over the first 3 days compared to the 3 days before the new site was launched.
Now 3 days isn't much data to go on, but it's a great start.
What Have We Done Different?
So, just what have we done different that has resulted in this massive increase.
It's been easy:
Demonstrate the product – we use better copy, photos and video
Demonstrate the value – the client is cost competitive so we show the prices and the value
Reduce the perceived sense of risk – we update the web site very regularly (you mightn't think this matters too much but it's critical for branding purposes and to reduce the perceived sense of risk when buying from the site)
We make it as simple as possible to buy
Simple stuff that makes an amazing difference.
Cheers