It has to be said, so I'll say it – I'm a winner.
I seem to win a ton of raffles.  Always have. ;o)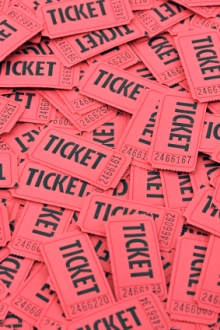 I remember as a little kid watching the local TV station (Channel 6 in Hobart) on a Saturday morning with my brother as they drew the lucky winner for the weekly raffle.
I can't remember the prize but whatever it was that sucker was mine when they pulled my name of of the barrel filled to the brim with thousands of entries.
I was watching the next week too when they pulled my name out again.
I win a ton of raffles, lucky door prizes, business card draws and more.  It's weird.
I won 1st prize in another raffle today and the new mahogany TV cabinet was delivered after lunch.
The Secret To My Success
But there's a secret to my success.
It's the same sort of secret to success in business.
Success only dances with those on the dance floor.
I remember a raffle a few months back at a fundraising function – it was a great cause so I purchased, from memory, $50 worth of tickets.  That was way more than anyone else so I had a great chance of winning.
Sure enough, I won 1st prize.
Those prizes I won as a kid – I'd spend every waking moment making entries for the raffle.
This latest raffle – bought heaps of tickets.
No big surprise to win when the odds are in your favour.
Success Only Dances With Those On The Dance Floor
You can't be success in business unless you're in business.
You can't win that big pitch unless you're making the big pitch.
Business ain't a raffle, but you have to give yourself every chance of winning.
And you can only do that if you're in the game.
Cheers