I made a couple of decisions today that went against the advice of the guys in the office.
2 decisions that could, very easily, impact very significantly on the number of speeches I get booked for in the next few months.
If I'm wrong, and I often am, then these 2 quick decisions – I thought about them for a total of about 2 minutes – could end up costing me lots and lots of bookings.
Okay, so what were these 2 decisions?
Decision # 1 – Articles About Hookers & Other Marketing Professionals
On my new Brendon Sinclair.com.au site I uploaded a file of my Top 7 Business Articles.
All good so far – a totally FREE download with no registration required, no tricks, no messing about.
All good so far.
But the title I gave the pdf file was the thing that caused some concern here in the office: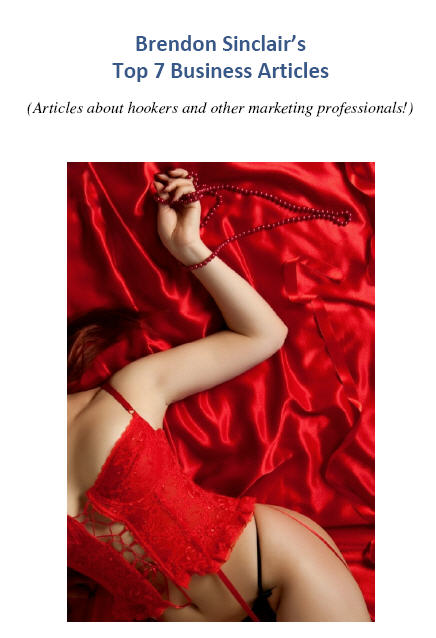 The others thought that was a bit inappropriate.  A bit offensive.  They thought the title and the photo I picked would cause readers to think "What a pig!" and not hire me.
My thinking is a little different.  My thinking goes like this:
Some of the articles talk about being different in your marketing.  That often means taking risks like I have with this cover.
One of the articles specifically talks about what I learned from a hooker.
In marketing, being boring kills you.   Have a bit of fun with what you're doing.
Sure, this pdf cover might come back to bite me on the ass, but I hope to attract the sort of clients that understand what I'm trying to achieve with what I do.
Clients that get marketing, branding, difference and more.
That's decision # 1.  Hookers haven't seemed to hurt Charlie Sheen, so how could they possibly hurt me??! ;o)
Decision # 2 – Comparing Myself To Forrest Gump
On the home page of the new site, I compare myself to Forrest Gump.
"Brendon Sinclair – Australia's Forrest Gump??!"
The reason I've done this was to try and communicate that I've had a pretty broad spread of experiences from sporting stuff, to business stuff, to getting kissed by Errol Flynn's old girlfriend!
I'm trying to differentiate myself in the marketplace from speakers who have done just 1 thing, with 1 focus.
Broad Range of Experiences
I figure that because of the broad range of experiences I've had, that has the potential to appeal to a far broader audience and provide great value for more people.
And I thought a succinct way to get that across would be to align that message with something/someone that is recognised for much the same thing.
Forrest Gump.  Made a bit of sense to me.
Made sense to me.  Simple, effective and most people will get it.
"People Will Think You're  A Bit Slow"
On the other side of the coin is this – the guys in the office think that the association will be that I'm slow.
We'll, I probably am ;o)
But I reckon more people will get the "Done lots of stuff" implication than will assume I'm a little slow!
I guess it's a risk, but it's a risk that might just get my message across a lot more effectively than I might otherwise have achieved.
Right Or Wrong Doesn't Matter
It doesn't matter if the decisions I made are right or wrong.
It's all a matter of testing and seeing what works (or doesn't work).
It's a matter of making a decision and moving forward to implement.
Because once you implement you can then measure effectiveness.
If it (your marketing) works, then keep doing it.
If it doesn't work, then try something else.
That's my logic anyway.
Cheers