Some people don't like my Ferrari idea.
They see it as impractical and, as one guy said, I "…..must be a moron for floating that stupid idea."
But here's the thing.
This stuff works.
And it works because it's not usual.
Because it's not usual, it gets noticed and commented on.
It builds your brand.
Numbers Don't Lie (Usually)
Okay, here are the numbers:
Firstly we've got to agree on a few things.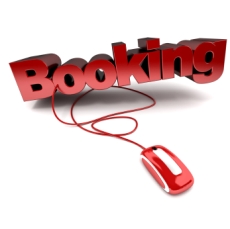 I'll say them and you agree ;o)
(That's what my wife says to me and it works!)
Many, many hotels/resorts use last minute booking providers like Wotif.
These guys generally take a 10% commission.
Up to 50% of a hotel/resort business can come through one of these providers.
So let's assume 25% of bookings come via the hotel/resort web site.
Tons of hotels/resorts use external booking systems that take a 10% commission.
Let's now assume the final 25% of bookings come direct and don't attract a commission %.
So we're agreed – 75% of the booking attract a 10% commission.
Next assumption:
The Average Length of Stay (ALOS) is 4 days.
Average cost per night is $150.
(I'll disregard all the other income streams a guest represents from tour commissions, room service, Internet usage, etc).
Let's say we have a 20 room hotel.  And we have an 80% occupancy rate.
That means you sell 5,840 room nights pa at $150.
That's $876,000
Now, 75% of that is commissionable at 10%.
75% of $876,000 is: $657,000
10% of that is $65,700 paid in commissions.
$65,700 in commission.  A fair chunk of change.
That Hotel With The Ferrari
Now, imagine you own that little hotel and pick all your guests up in your Ferrari.
They drive back to the hotel in the Ferrari.
I can guarantee that very quickly you'll be know as "That Hotel With The Ferrari".
And that Ferrari is what we call a choice influencer.
I know I'd book a hotel that offers to pick me up in a Ferrari (all things being equal).
And I'd reckon you'd have a much better chance of being noticed in the cluttered accommodation market now you have a Ferrari as your courtesy car!
My Mate Luke's Ferrari
My mate Luke has a beautiful Ferrari F355 GTS for sale.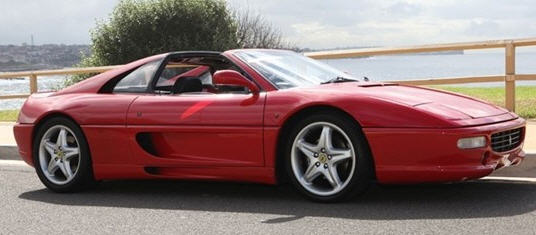 He's selling it for $99,000 – a bargain if you're after a Ferrari.
Let's say you get onto Luke and buy his glorious Ferrari (all Ferrari's are glorious!).
Direct Bookings Go Up
Let's assume that because of the increased awareness because of the Ferrari your direct bookings go up.
Let's say that because of this increased awareness – after all, the Ferrari pick ups have got you air time on major travel shows, tons of print media stories and hundreds of Twitter and Facebook mentions – the direct bookings (non-commissionable) now represent 50% of your bookings (I think that would be a very conservative number).
50% of $876,000 is $438,000
10% of that is $43,800 – that's what you're paying now in commissions
Old commissions were $65,700
Now they're $43,800
That's a nice little saving of $21,900.
Now, you've saved yourself $21,900 by using this Ferrari and in just over 4.5 years your Ferrari has paid for itself.
Or, if you borrowed the $99,000 at 10% you'd be paying $9,900 a year for the Ferrari and making yourself $21,900.
By buying yourself a Ferrari you could improve your business bottom line by at least $12,000 a year.
At a minimum.
The Takeaway
The takeaway is simple.
Get your business noticed.
Buy a Ferrari to have guests ferry themselves to your hotel accommodation.
Business will boom.
Costs will go up.
Other costs go down.
Pocket the difference.
Oh, and did I mention…….you're now driving around town in a Ferrari!
Cheers