We've been working with a client on a solution for their team to make presentations to their member network.
One of the solutions we reviewed was Instant Presenter.
We've been testing and trialing this and I'm mighty impressed.
Displays The Presenter & Much More
The viewers sees the video of the presenter, whilst another part of the screen can show slides, video and lots of other things.
The presenter sees pretty much the same, but with a few extra controls.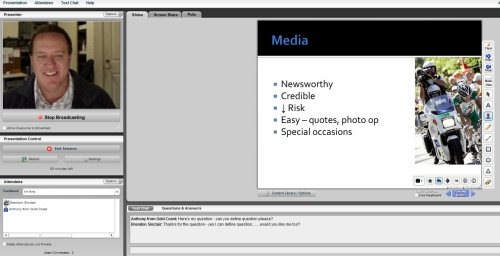 A very neat way to make a presentation to your remote audience.
Instant Presenter comes with lots of other features (including payment integration so you can charge people for viewing your presentation) – check it out for a very neat solution for Webinars.
Cheers