It's 10 years today that my then 15 yo son Jack and I started our 4,500 km cycle across Australia in 30 days – from Perth, WA to Surfers Paradise, Queensland.
He became the youngest person ever to cycle across Australia and we raised $30,000 for youth mentoring charity Big Brothers Big Sisters in the process.
It was an important catalyst for many things to come in the future and a fair effort for a young kid to average 150 km a day on the bike, with the biggest day being 260 kms.  We learned a few lessons.
Lesson # 1: Anyone can do it
The biggest lesson we both learned on that ride was this: anyone can do it.
I remember Jack and I having a coffee/milkshake about 80 kms from the finish with a couple of friends.  One of the friends asked Jack,
"Mate, do you feel like you've achieved something special?"
His answer was a good one: "No, anyone can do this. Just have to train a bit."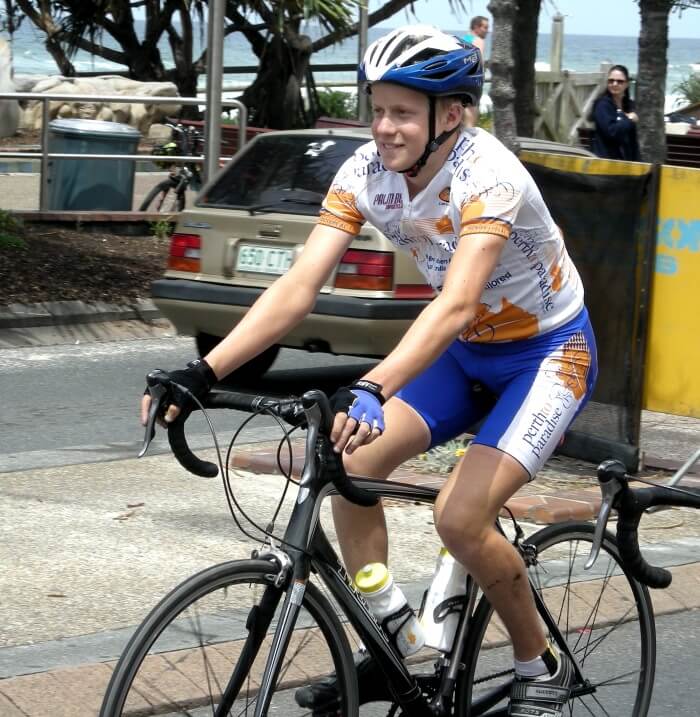 And it's true. Anyone can do it.
Take that big daunting goal, break it down into small chunks, then bite off and chew each chunk – before you know it, that big daunting goal seems way smaller and more achievable.
Basically all we did was cycle 50 kms, three times a day. Easy!
Lesson # 2: Great feats inspire others
The legacy of such a challenge ripples out and impacts on others.
A few weeks after we finished, our 17 yo daughter said at dinner "You know, after Jack finished that cycle, I feel like I can achieve anything I set my mind to."
That's why, at age 22, that same young lady who had barely done any running previously, ran her first marathon.
Lesson # 3: Resilience. Just get on with it
Young Jack has done a bit since 2008.
Won the 96 km Kokoda Challenge,
done a solo 1,200 km run around Tasmania,
climbed Mt Kilimanjaro,
motorbiked 17,000 kms around Australia,
motorbiked through the Himalayas and
become a commercial pilot.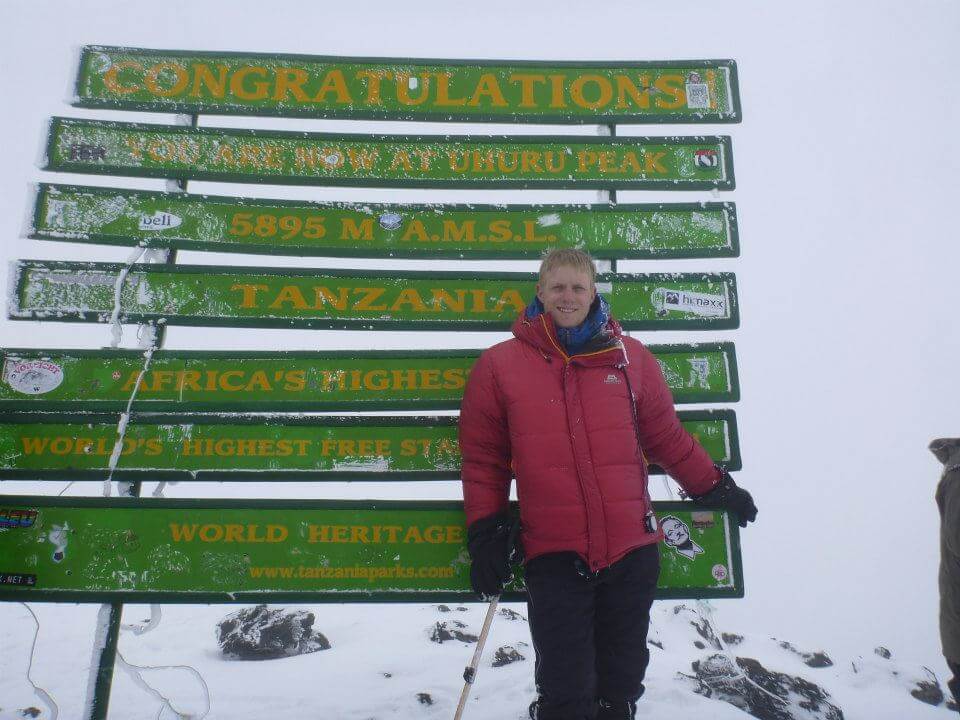 So he gets stuff done.
His biggest challenge of all was overcoming a near fatal accident while on a training ride in 2016, 4 weeks out from the Cairns IRONMAN.
He was struck head on by a turning car and thrown through the air.
Jack had the perfect good sense to land within metres of a doctor jogging past the scene.
She revived him on the side of the road (along with another couple of wonderful women) and he was transported to hospital with critical injuries including:
a broken neck,
broken jaw,
smashed teeth,
broken shoulder blade,
broken collarbone,
broken ribs,
punctured lung,
along with facial and shoulder lacerations.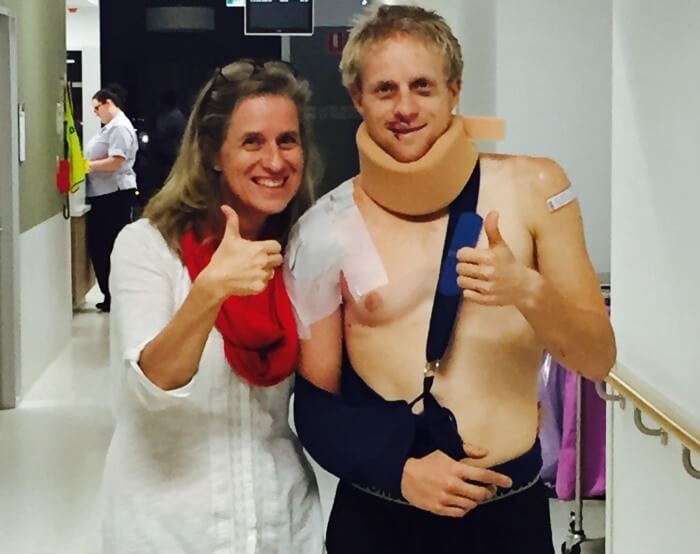 He recovered over the course of the year, got back on his bike and went and finished that Ironman 12 months after his accident. As you do.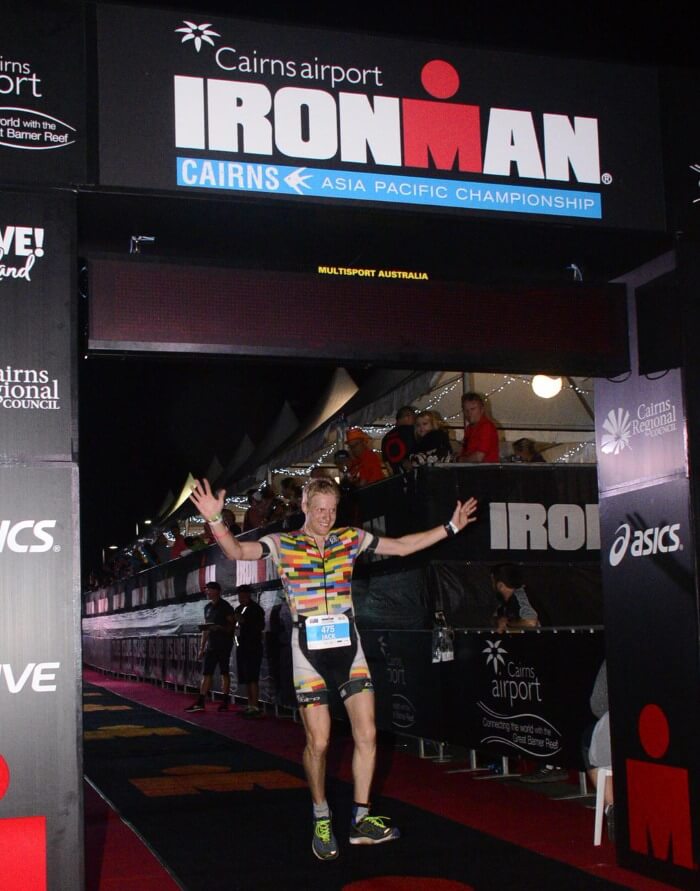 Lesson # 4: Keep going – you have no other choice
Keep going. That's the big lesson.
Life will throw some stuff at you.  Brush it off and keep on going.  Because life is here to enjoy.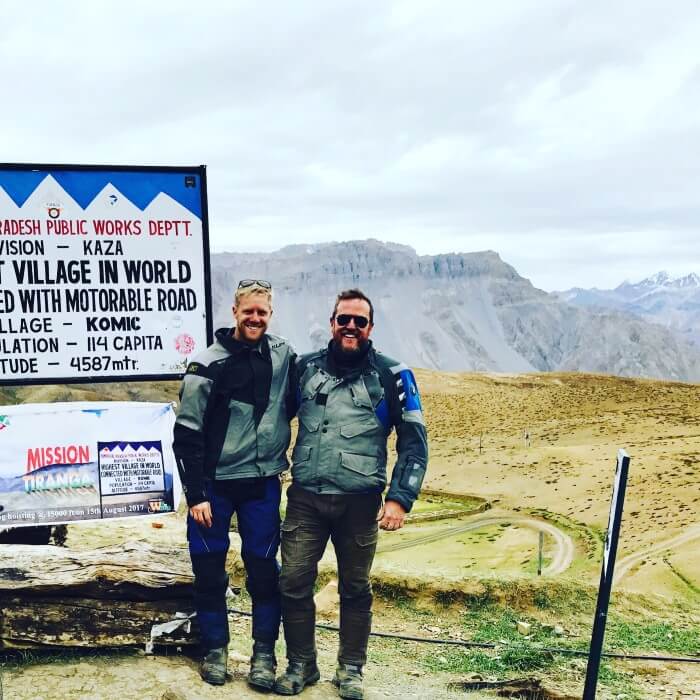 Cheers