I'm sure you've seen all the headlines these past few years about hacking and data theft.  For a while, it seemed like there was a new headline every week "Major website hacked!  Thousands of users have personal data leaked!".  There has been a push for greater website security and privacy, and Google is taking big steps in that direction.
The Google Chrome web browser now has a 47% market share – millions of people use it every day.  Back in January 2017, they started showing warnings to their millions of users if they were looking at a page that asked for sensitive information (like credit card numbers) and didn't use SSL.

Now they've made this warning even more aggressive, showing warnings on any page with a form that doesn't use SSL.
And it's not just Google Chrome – other browsers are moving in the same direction.
What is SSL?
An SSL certificate is necessary for your website load using a HTTPS:// address instead of HTTP://.  It means that data is encrypted as it travels between your computer and the website, so it can't be stolen by anyone eavesdropping on the way.
So when you do online shopping, data (like your account password or your credit card number) gets sent from your computer to the website.  Using SSL (and the address will start with HTTPS instead of just HTTP) encrypts that data instead of sending it as plain text.  It helps keep personal data private and protected.
Why should I get it?
You might be thinking – I don't run an online shop, why would I need that?
Google Chrome is now giving warnings to millions of users that your page is insecure if you have a form on it.  That might include a newsletter signup form!
So when your visitors load your website, right at the top is a big warning telling them this site is not secure!
According to a recent consumer survey by Hubspot, 82% of respondents said they would leave a a website that is not secure.  In other words, a lot of your visitors would leave if they see that warning.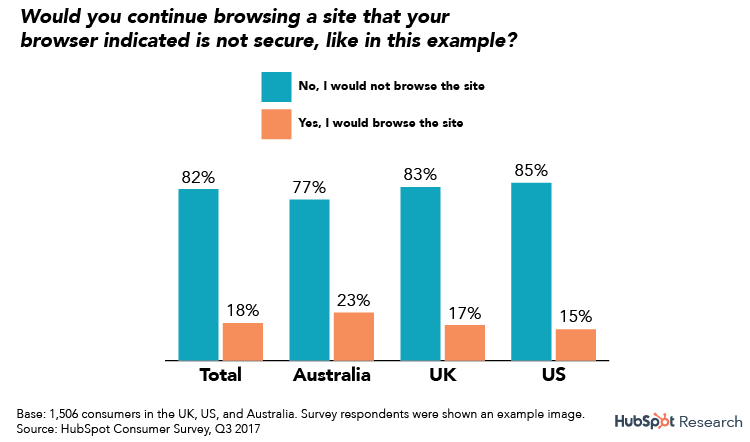 There are other advantages too: Google has been giving preference to sites using SSL in the search results for some time now, meaning that if your site uses SSL, then you get a small boost in the search engine rankings.  In other words, a website with SSL may outrank an otherwise similar site that lacks SSL.
How do I set this up?
First check to see if your site already uses SSL.  Look at the address bar at the top for a padlock or green message.  It may look different in your browser, but should be something like these examples: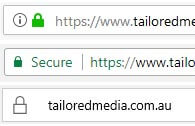 If you don't see that, then give us a call, or email Anthony.  We'll look at your site to see what is involved, and tell you about any costs.