As a full service marketing and ad agency we do pretty much everything in house and, after 21 years of doing marketing, we have a fair idea of what works and what doesn't.
Many people these days discount the value organic Google rankings (they're the free rankings – not Pay Per Click), thinking that because Google prioritises ads and the map in many search results (like below), that rankings don't matter as much.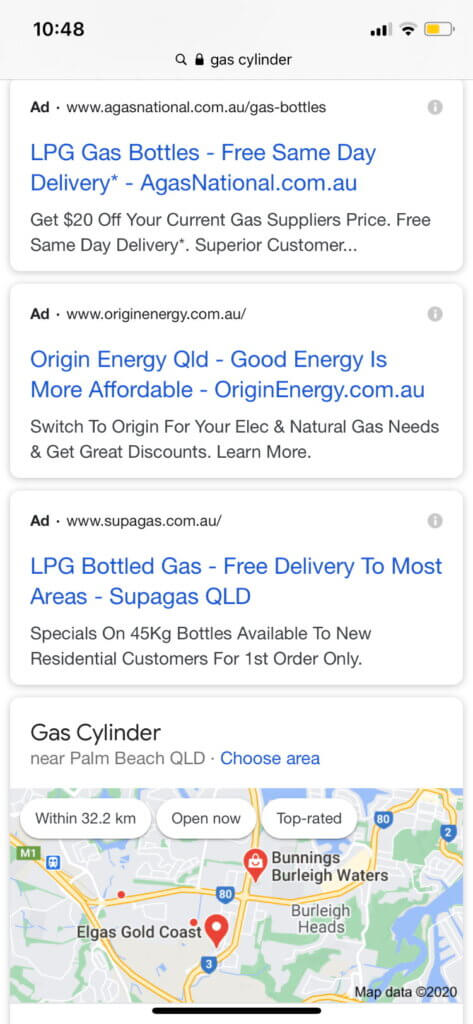 Sure, that might be correct in some cases. But not all.
I continue to see the power of good rankings and the very significant imapct they can have on a business.
Some data to back that up….
Here's some data on a local business we've been working with.
They sell a $80 product to all areas of the Gold Coast. It's a bricks and mortar, long established business.
We were engaged to help build online sales starting in August.
We've employed a simple strategy for the Google rankings and online sales.
We've focused our search engine optimisation work on 2 main terms (because these 2 terms get 20x more searches than the next 10 most popular searches). Other terms have increased along with those as a matter of course.


Did it work?
The only measurement that really matters is sales, of course.
Comparison November to October
Online sales up 68%.
Telephone sales up about the same (not as well measured).
Interestingly, 58% of their visitors are on mobile devices and it's a hugely competitive niche with the organic listings under 4 ads and the Google Map listings.
And still the business received a massive boost to the bottom line as a direct result of these better rankings.
Great Google organic rankings can have a massive impact on most businesses. Don't let anyone tell you different.
Cheers