Tailored Media what an impression!
It's been two weeks now that I've been lucky enough to be involved in such a great business with an incredible group of marketing gurus. I can still barely wipe the smile off my face whenever I walk through the door!
Here's how it all started – my first day, I was greeted with a bouquet of flowers, chocolates covering my desk, and a card signed by all my new team members welcoming me to the madhouse that is Tailored Media.
From the start, I dove in headfirst; helping however I could. It was hands-on from day one. And there's plenty to do.
In my first two weeks here, I have been involved with a huge range of marketing and advertising campaigns.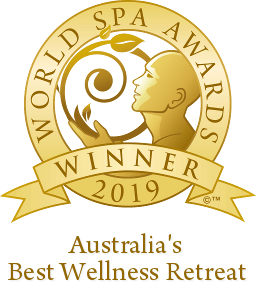 Eden Health Retreat: was named Australia's Best Wellness Retreats at the World Spa Awards 2019 in Dubai.

To top it off, Eden was featured in a major feature article in The Sydney Morning Herald on the weekend.

We devised a plan to leverage Eden's successes on digital platforms (both organic and paid).
From worst ever to best ever. Here's how…
The Shoe Garden: A women's footwear retailer in Brisbane had their worst weekend ever in sales a few weeks ago.

Just 7 days later they had their best ever weekend sales – thanks to some low cost (but well thought out) digital advertising that's perfectly measurable.
Noosa Tri showcases fisiocrem
fisiocrem: We have been planning for an event activation at the Noosa Triathlon this weekend as the Official Recovery Partner! What an amazing weekend it will be supporting some incredible athletes 💜

Then there's sponsorship assessment, strategic input and so much more.
Gold Coast Fresh Meat Centre: Our team created a kick-ass video for the Gold Coast's largest butcher for a 3-month multi-tier digital marketing campaign.
People can't buy until you make them an offer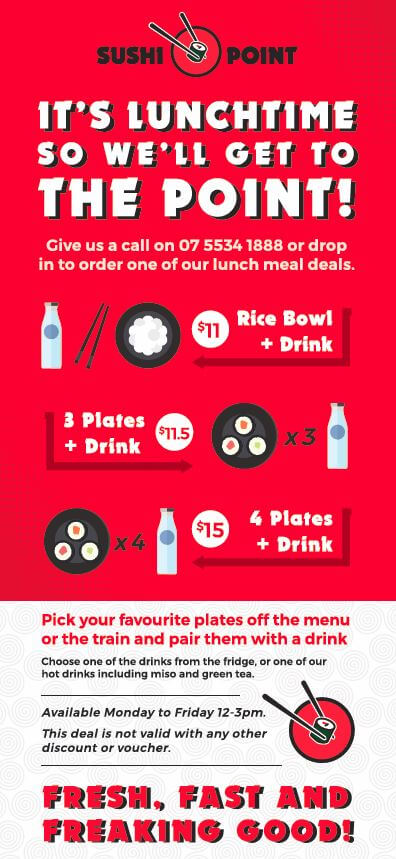 Sushi Point: Got back to the basics of marketing and designed and distributed brochures to surrounding local businesses for a local sushi joint. Our beautiful staff member Emma dropped flyers and the orders started rolling in!

This method is an oldie but a goodie and for businesses wanting to be front of mind for local customers – it can still work a treat!

People can't buy until you make them an offer. This is a simple awareness marketing tactic with a call to action. Great artwork, clever copywriting, quick printing and done.
Emergico Migration moves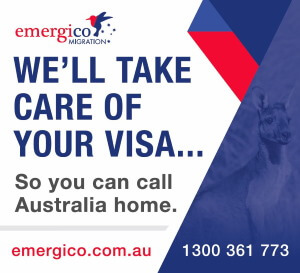 Emergico – After a relocation, Emergico, one of Queensland's biggest migration agencies, needed to remake their mark.

We redesigned their building signage, business cards, letterheads and provided copywriting for clear communication and messaging to attract potential clients.
Indian Motorcycle Tours: We have been working on the website for an Indian tourism business operating out of Delhi… to think we can work so easily for a business operating in India is wonderful.
Brainstorming public relations issues
Public Relations: Being involved in brainstorming public relations opportunities, crisis management and how to pitch has been a real eye-opener. The experience and expertise of the team here blows me away. They've seen it all before and done most of it!
All-in-all it has been an absolutely incredible first two weeks here at Tailored Media. We have plenty of brilliant ideas in the pipeline for our clients, so I know that the madness is only just getting started. The variety has been wonderful for me. There's no risk of getting bogged down and we're always creating something new.
Key takeaways from my first two weeks
Deliver and Delight: Here at Tailored, we are all about surprising and delighting our clients. We make every effort to go above and beyond the call of duty, and it shows.

Gratitude: To express gratitude in business is to make yourself and your staff happy – it is amazing how much your drive and passion at work improves when you feel appreciated. Expressing gratitude is one significant way to help your business thrive both internally and externally!

Only work with businesses that are the right fit: You want the exchange to be beneficial for both parties. Less time wasted and more smiling faces!
I have to say though, the best part about working at Tailored Media is the marvelous team they have created here.
What a bunch of talented, crazy and outrageously beautiful people – I can't wait to see what's in store for the next two weeks.
Cheers