One of our clients, Oceanside Services, deserves a pat on the back for being a top-notch plumbing and electrical team for Gold Coast locals.

If you are looking for plumbing excellence at its finest, then look no further than Oceanside Services. You have probably seen them driving around in their vans with a giant dolphin on the side… I mean they are pretty hard to miss, but that's the porpoise!

Their team exudes professionalism with licensed, experienced, and knowledgeable technicians who know just how to get in there and get the job done.

Don't stress about your plumbing or electrical problems because Oceanside Services works 24/7 for 365 days of the year and offers a 1-hour emergency response service.

We know we love to brag about our clients, but we have good reasons!

With over 20 years of industry experience, they have seen just about every problem in the books and have a solution at their fingertips.

They really can do it all, and that's why we wanted to highlight their local Robina plumbing service.

The team works around the clock, day and night to ensure locals have a professional plumbing service on hand whenever they need. Seriously, if your drain is backed up because your daughter's hair has clogged it for the third time this month, the Oceanside Services team will respond to your call for help within the hour.

But, they are not a one-trick pony in the slightest.

Sure having a superstar plumbing service is essential for residential and commercial buildings, but they can do more than fix your toilets, pipes, and drains!

Oceanside Services is a top-rated electrical, data and air-conditioning service provider for the Gold Coast.

We can all agree that in the heat of summer, there is nothing worse than realising your air conditioner just decided that on the hottest day of the year that it would stop working.

Instead of scrambling to fix it yourself, cleaning vents, and clicking buttons, call the Robina electrical service team and they will show up faster than you can wipe the sweat from your brow to get you back up and running at full capacity.

The Oceanside Services electrical emergency team services all major brands with all work fully guaranteed.

Like we were saying, they are one of the best electrical and plumbing services on the Gold Coast!

Still not convinced?

Oceanside Services believes in putting people first, and so do we.

We are thoroughly impressed with their professionalism, communication and just the overall ease of working with them. Every member of the Oceanside Services Robina team consistently provides clear and honest explanations for every one of their customers.

That's precisely why we believe in them.

Take it from us – because we are pretty damn good too.

So the next time you are desperate for a superstar plumber or electrician, give our mates at Oceanside Services a call and they will be sure to sort you out.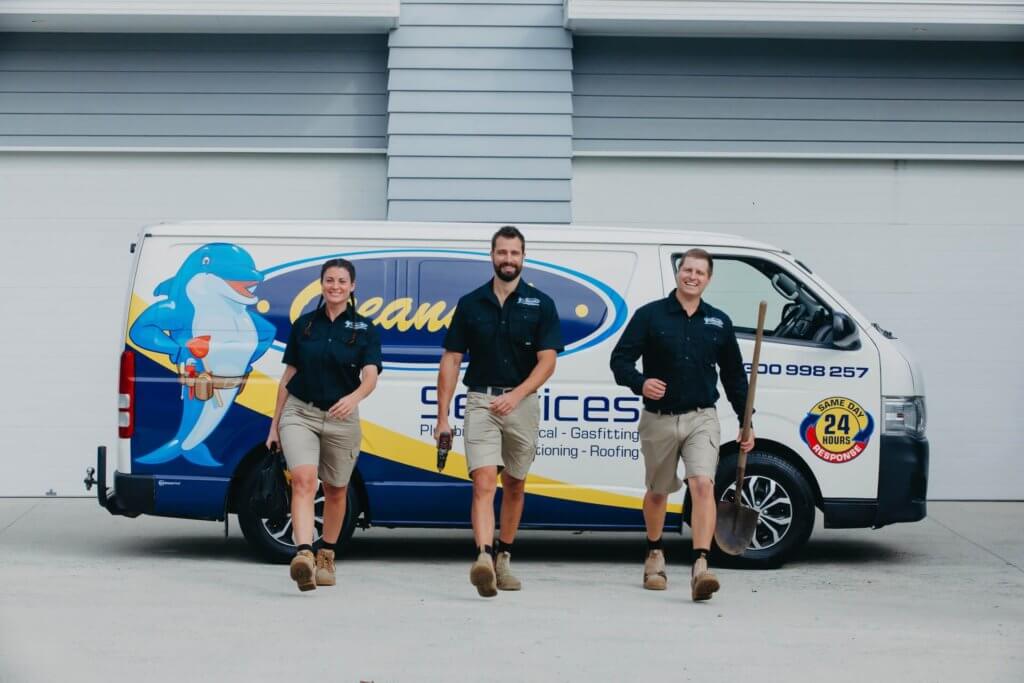 Cheers