In a recent Tailored Media newsletter I wrote this:


Here's how to be happier. Express gratitude.


One of the most powerful ways to express gratitude is with a handwritten "Thank You" note.

No one writes them anymore so, just like our different strategies to get media attention, they work."
And here's how to write a "Thank you" note:
Start with a pen
Piece of paper or a nice card (card is better because a card gets displayed and kept for much longer)
I sometimes start with "What a wonderful person you are!"
(Someone wrote that at the start of a "Thank you" note to me years ago and it really resonated.)
Then move on to thank them for whatever it is they did AND, mostly importantly, say how they made you feel.
Something like this:
Hi Charlotte

What a wonderful person you are! I'm so thankful for you going out of your way to make sure the trip was a great success for everyone.

You really make me feel like I'm in safe hands and that you've got my back. It's so reassuring to have you on my side!

Thanks again and have a fabulous week.

Brendon
Now we come to the really important bit
Grab an envelope.
And a stamp.
Now post that handwritten "Thank you".
Handwritten (and posted) notes are so rare these days that your simple gesture will stand out from the crowd and be greatly appreciated.
I've been marketing for 20 years and expressing gratitude is not only good manners, it's a great way to differentiate yourself from others (and make yourself happier).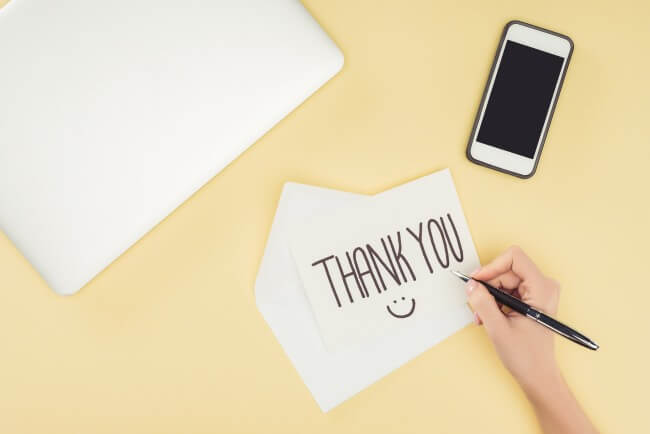 Cheers