Creative thinking often, not always, wins the day in terms of value created.
Creative can get cut through.
Creative comes up with better solutions.
Creative can make a better return on investment than any tactic.
I was reminded of this by reading Dave Trott's Twitter (follow it for some terrific insights) this week and seeing an extract from his book One + One = Three.
It talks of how animal activists slowed the slaughter of baby seal pups (hunted for their pelts to make coats). They figured their brief wasn't to actually stop the hunters.
Their brief was to stop the pups being killed.
So they removed the reason to kill the pups – they sprayed a splash of paint on the baby seal, rendering the pelt unusable. Simple.
Creative solutions are often the simplest
Back when I was a nurse in a Hobart hospital, I worked the night shift every week for years.
Confused elderly patients would sometimes break hips by clamouring over the top of the bed rails meant to keep them in and falling to the floor.
I stopped that with one simple action.
I put their mattress on the floor. You can't break your hip if you can't fall.
Salad rolls boost hospital admissions
When I was marketing hospitals some 20+ years ago, I boosted admissions to the Emergency Department by using a salad roll.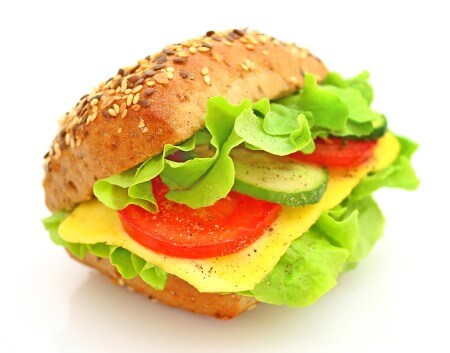 Free salad roll, Mars Bar and piece of fruit  – 20 lunches lined up in paper bags ready for busy Ambulance officers to grab when they bring in patients during How to market hospitals handbooks don't generally mention a salad roll!
Years ago, the mayor of a small country Australian town was trying to bring media attention (and thus influence) to the appalling slow internet speeds his residents "enjoyed".
So he emailed a 1.4 MB file to a TV station, at the same time he released a pigeon with the same file on a 1.44 MB floppy disk tied to its foot to the same destination. The pigeon arrived before the email and publicity was had.
Creativity works. Creativity can be hugely valuable.
Re-imagine your problem and start with the simplest possible solution.
Cheers