Google AdWords Manager Brisbane and Gold Coast
Not enough enquiries?
Not enough sales?
Not enough profit?
Looking for a way to boost your business?
Google AdWords Manager to the rescue!
Google AdWords can be a tremendously effective form of advertising in the right hands. It can generate a flood of quality prospects to your web site FAST!
Accredited Google Partners, Rated Best Ad Agency
We're an accredited Google AdWords partner, rated the Gold Coast's best advertising agency, award winning and we've been creating success for clients with AdWords since 2002.
Have our certified Google experts fast-track your success with Google AdWords.
What is Google AdWords? (Now called Google Ads as at October 2018)
Google Adwords is a pay per click (PPC) advertising platform that allows businesses to pay for specific keywords related to their business. Bidding on this search terms would make an Ad pop up on Google's first page giving your business the opportunity to reach and engage potential clients with high intention of purchase.
Remember a user might be searching for a product or service just like yours so, why not placing an Ad for them to see that you have what they are looking for!?
See what our Google AdWords accredited expert Carlos has to say. Carlos is a highly regarded Google expert and is a leader in the field.
Are My Customers Really Using Google To Make Buying Decisions?
Have you heard the expression "Google It" ?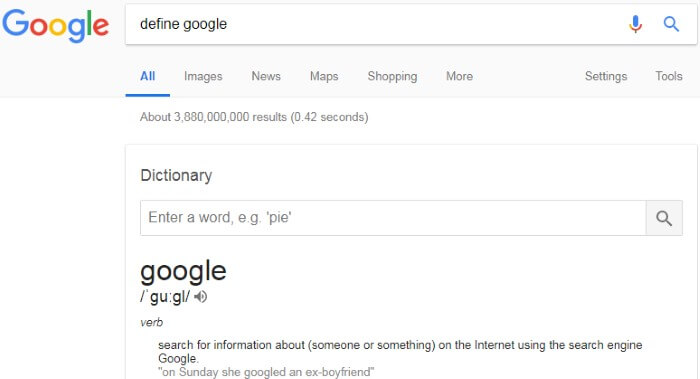 Well this pretty much answers your question… But let us explain this a bit better.
The biggest value of Google Adwords is the people you are targeting to. These are users with high intent of purchase, they are actually looking for the product/service and they want to buy it straight away.
Just picture yourself looking for the best rates on car finance. What do you do? You Google It!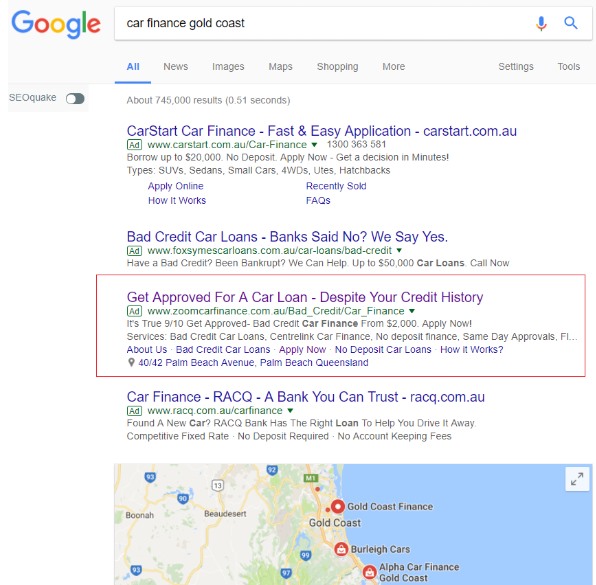 Let's check some stats:
86% of consumers use the Internet to find a local business (WebVisible survey)
93% of Australian consumers prefer to find information on local merchants via Google search. (statcounter)
29% of consumers search for local businesses at least every week (BrightLocal survey)
70% of mobile searchers call a business directly from Google Search
Why Use Google AdWords?
With 93% of Australians searching on Google for local businesses just like yours, your best bet is to be there when they need you.
If you are not convinced here are 10 more reasons why you should use Google Adwords for you business.
Google AdWords top 3 Ads generate around 40% of clicks to a website: That is a 40%+ increase on qualified traffic to your site!
AdWords is faster than SEO: With AdWords your site would be on the top 3 positions in no time.
AdWords traffic might convert better than organic traffic: Users that click on an Ad have high intent of purchase.
Business branding: Your brand would come up first on related searches.
Precise Targeting: Reach the right people at the right moment.
Get market insights: AdWords lets you understand how the consumers behave and search.
Suitable business of all kinds and sizes : AdWords is an extremely flexible marketing platform.
Stay local or global: Advertise to your local and international market.
Stay in control of your budget: Adjust your budget whenever you want, turn on and off your campaign anytime
It can be the fastest way to get a lot of targeted web site traffic to your web site
There's no question about it.
Google AdWords can be the fastest way to get visitors to your web site – visitors who are keenly interested in what you're selling.
How long before Google AdWords management get results?
That's an easy one to answer. Almost instantly.
Depending on the size of your campaign, we can have you up and running with AdWords in a matter of hours.
Within a week or so you'll have a very good idea on what sort of ROI you can expect from your AdWords investment.
Keep in mind, that generally the longer an AdWords campaign goes on, the better it performs (to a certain extent). This is because the data helps us make more informed decisions on how your market behaves and we can further refine the strategy and tactics.
How long have you been managing AdWords?
Good question, because experience counts.
We've been managing AdWords accounts for close on 20 years. They started way back in 2000 and our first AdWords account (for ourselves) was set up in 2002.
Over those years we have managed campaigns worth millions of dollars and had some terrific successes.
Accredited Google Partner events hosted by us
As accredited Google partners, we occasionally hold Google Partners Events in the office.
3 Times More Sales, 4 Times The Price
We have a site that is already doing 3 times more sales, with the averages sale price over 4 times what it used to be.
"Wow!!! That's all I can say – can't believe it, incredible and I like the way you said "We" – I'm sure we've helped in some way lol.
"…Our sales and service calls have been increasing every month at a steady 25% growth rate. We can only attribute this to your expertise"
Steps for a successful Google AdWords campaign
You need to find the best keywords to target. Because some words that are searched for will result in more sales than other words.
You need a well written ad. Make sure you use the best words, and structure the ad for best results. If you do this the right way, even if your ad costs less per click, you can still be above more expensive ads! And that means more bang for your buck.
You need to continually test your ads against each other to see which ads perform the best. Well performing ads make you money, Poorly performing ads cost you money. You need to maximize your ads to make sure you make the most sales and don't miss out on revenue you deserve.
You need to have a highly targeted landing page. That is, develop a page specifically for the advertisement you have running. It's much more effective to bring a person searching for blue widgets to your blue widgets page rather than your generic home page.All the things a Google AdWords Manager can provide.
This will result in many more sales and better performing ads.
Here's an article from Chloe from December 2019 titled: Everything you need to ask your agency when you're using AdWords
These first 4 steps are as relevant now as when our CEO Brendon Sinclair wrote them way back in 2005 describing how he used Google AdWords in Brisbane take take one of his own sites from $0 to $20,000 per day in sales in just 16 weeks.
That's experience and experience that counts.