There are plenty of other web design firms that'll design you a lovely, pretty website. And sure, we design great looking sites.
But we're different to other web design firms. And it's a difference that matters. It matters to you.
We Are Different – Here's How (& Why It Matters To You)
We know what makes the difference between a successful and unsuccessful website.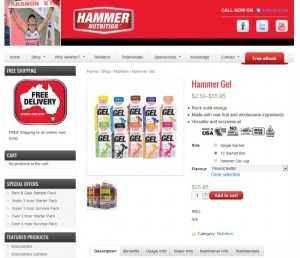 We've been developing websites for almost 15 years. That's a fair bit of experience.
And it's experience that counts.
It's experience that enables us to look at a website and know why it is not performing and how to get it cranking out leads and sales.
After all, you don't want to develop a website that is a waste of money.
3 Times More Sales, 4 Times The Price
We have a site that is already doing 3 times more sales, with the average sale price over 4 times what it used to be.
That quote above is from Luke Edwin. Luke's a character who runs GaryEdwin.com, a hugely successful site that provides online golf lessons – read his full testimonial here (it's hilarious!).
$250,000 Sales An Hour
In 2003 we had a site that made a staggering $250,000 in sales of a $50 product in 1 hour.
If we as much as changed an image on the Home Page the sales would drop 10%.
Author Of The Award Winning Web Design Business Kit
Brendon, he's the Big Chief here who started Tailored all those years ago, is the author of The Web Design Business Kit first published in 2003.
It's been a hugely successful book for web developers sold worldwide.
What That Means For You
What that means for you is a web development company that knows its stuff, that is connected, that has a very broad range of skills and services to provide.
No hassle, no fluff, no nonsense.
We know what works – after all, we've been doing it, talking about it, writing about it and teaching it for years.
The Last Difference – It's All About Results
The last difference that matters that we'd like to mention is this: we're results driven.
It's not a case of doing work so all you have is a pretty website (sure, we do pretty when a pretty website is what will work best).
We do the right sort of work to drive sales and enquiries to your business.
We've been doing this a long, long time and know you want results without the fluff (here's a neat example).
Is that what you want?
Some More Designs
The big thing to mention here is that if you don't like sites we've developed, it doesn't mean too much.
After all, every bit of these sites has been designed for a specific purpose and to generate leads or sales. These sites work and they work well.
If you want results, we can help.
Contact Us Now For More Sales
Contact us in our Gold Coast office on 07 5534 1228 or use the form below: