Today we'll provide a solid case study on how we achieve high search engine rankings for a wide range of keywords and clients.
Now I can't tell you everything on what we do – not that we do anything the search engines don't like – it's just that we need to have some 'secrets' to add value to our client's business.
We can't give everything away or we'd put ourselves out of business ……and that would be stupid! ;o)
How We Get # 1 In Google – 8 Times
Over the past few weeks, we've had numerous clients have us assist them get higher search engine rankings. Many of these terms are highly competitive and it is very valuable to be # 1.
Some terms are more local.
# 1 for Pool Tables – Done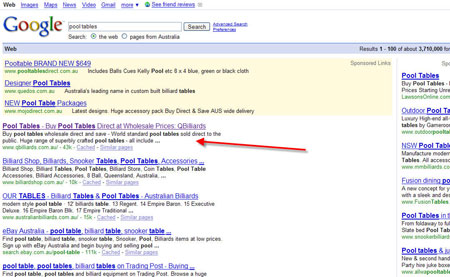 # 1 for Hammocks – Done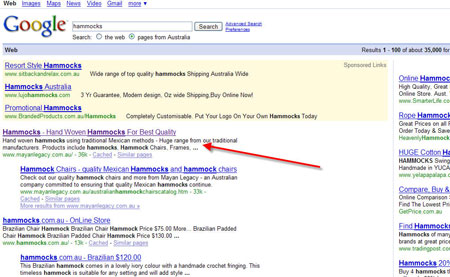 # 1 for Online Personal Trainer – Done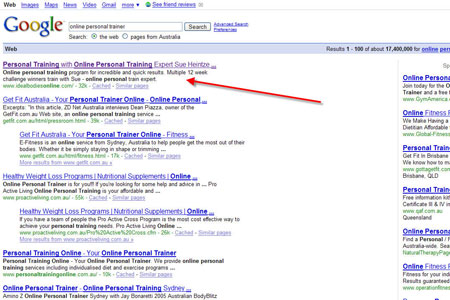 # 1 for Management Rights Gold Coast – Done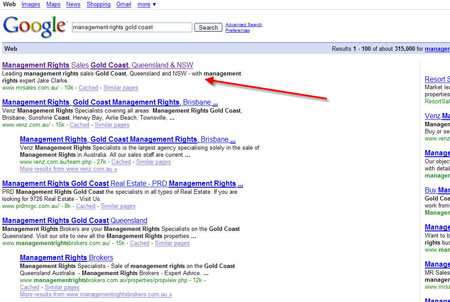 # 1 for TV Commercials Gold Coast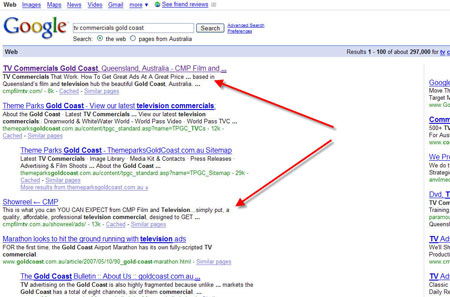 # 1 for Ugg Boots – Done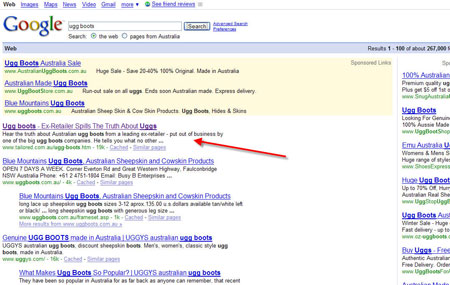 # 1 for Worlds Best Web Designer – Done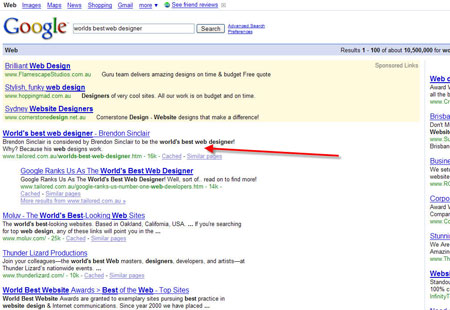 # 1 for Eczema Treatment – Done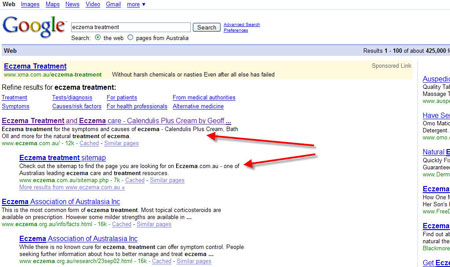 Client Introduction
Of the above 8 sites, 3 are ours (the bottom 3) and of the other 5:
3 were referred by happy clients
1 found us via a web search
1 was contacted by us
Project Overviews
Of the 5 sites only 1 site was designed by us. This usually makes it a bit more difficult to rank sites (rankings have a good deal to do with how a site is structured), but the issues are almost always easily overcome.
Initial Review
The first thing we do with a site is a thorough analysis.
Now this "thorough analysis" can vary. You see, if you haven't much of a budget then it doesn't make a lot of sense for us to spend 4 hours analysing and testing your site, spend another 2 hours figuring out what to do and then an hour writing up the proposal only for you to say "Oh no. I only have $1.50 to spend!"
So we do 1 of 2 things:
So we do 1 of 2 things:
Do an hour or so review of your site and give you a ball park cost to achieve your goals and then talk from there
Do a solid review of your site and charge you $495 – this come with recommendations that you then implement yourself (or we implement for you for a fee)
Although you'll expect me to say it, I'll say it anyway.
It's better for us to implement the strategies we recommend because there are many nuances to many of the aspects we'll most likely recommend.
A good example is links. Whilst we'll almost certainly encourage you to attract links into your site (and give you advice on the best sort of links), there are simply hundreds of nuances with links that we simply can't cover in a written report.
With all the sites above we were able to identify some pretty major issues very quickly without the need for a long review (it always helps when clients are referred from friends – that reduces the person's perceived sense of risk when dealing with us).
Keyword research is a critical part of this process.
Planning
The planning of the strategies we'll implement includes the very detailed analysis of your site and will involve a range of aspects that vary from site to site.
The planning is important, of course, to ensure we can implement our work in the most effective way.
Skills Required
Each site we work on to improve search engine rankings requires a number of differing skills. Most of these we have in-house, some we outsource.
Implementation
Implementation is the fun bit (for us anyway!) and can take anywhere from 5 hours to 500.
Like anything, it's easy when you know what to do. It's the knowing what to do that is the hard bit.
Editing of Web Site
Editing of your website is almost always required (99.9% of the time) – probably the biggest surprise for clients is how little we have to edit their site to improve rankings – but we do generally provide recommendations on future content development.
Conclusion
The above sites are a nice cross-section of sites and a good example of the results we can achieve.
Having high rankings can provide you with tremendous benefits, not only in a deluge of traffic, but by aiding your positive branding perception (people who see you at # 1 assume you're the best in your field).
If you'd like to have a chat about our digital marketing company perhaps doing some search engine work for you, please don't hesitate to shoot us an email.