Why Businesses Need PR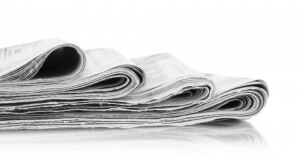 Public Relations is an important and necessary aspect of all marketing campaigns. Having stories on your business featured in the media not only give you access to a wider audience, it also grows the trust of your current customers and gives you a reputation for being credible and important.
Your audience, no matter who they are, are always engaged with the media in some way and seeing your brand appear in or on a legitimate news source only heightens your reputation and your reach.
It's win-win!
Here at Tailored Media we love getting great coverage for our clients across a range of mediums. We're all about developing relationships with the media and creating great stories that represent who you are and what your business is about. Over the last few months we've secured some excellent coverage on TV and in print. Check it out below.
We'll be updating this page with any new coverage we get throughout the year along with all the release we send out on Tailored business updates.
Oculus Group in mybusiness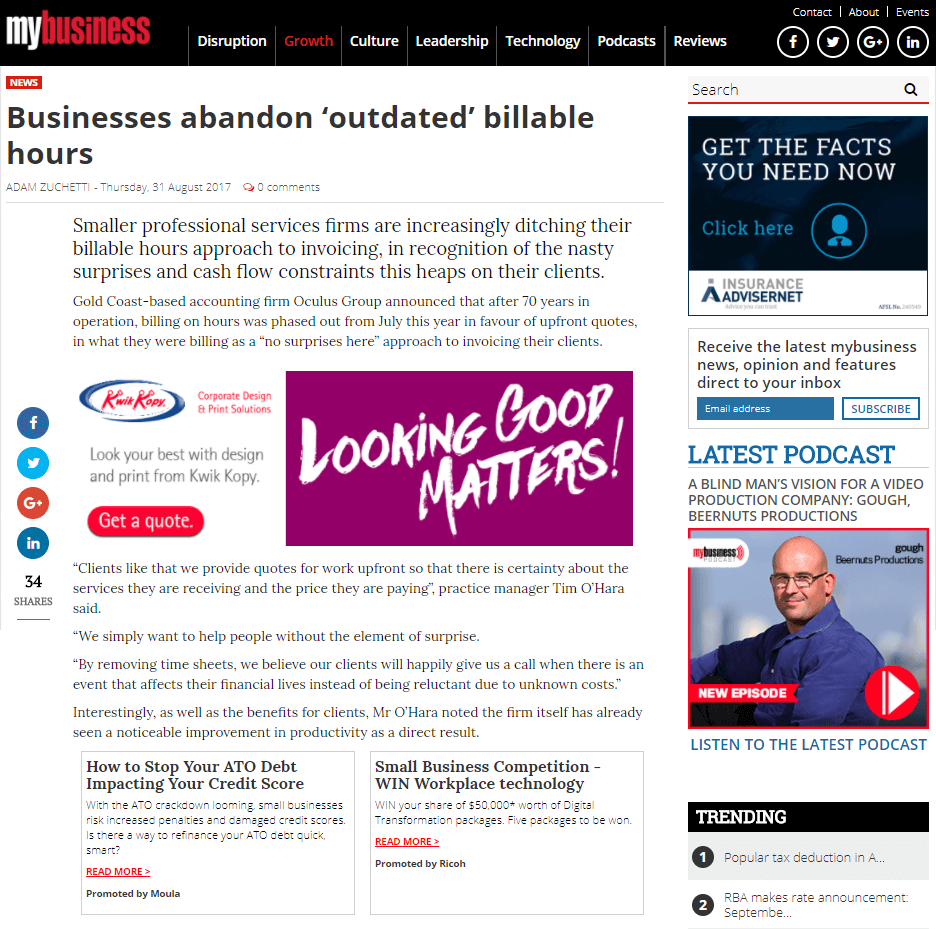 Oculus Group phased out billing by the hour from July this year in favour of upfront quotes. The financial services group located in Tweed Heads received an online-write up, commending them on their "no surprises" approach to invoicing.
ABC Heli in the Gold Coast Bulletin, NT News, Herald Sun and Daily Telegraph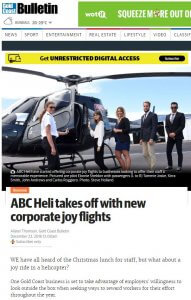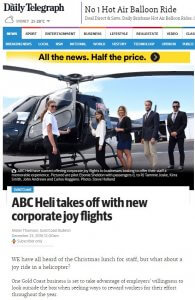 ABC Heli has recently begun offering corporate joy flights to companies looking to offer employees a unique experience that will create both a positive workplace environment and a memorable bonding experience. We recently took on the company's PR and this was our first pitch. A great result for ABC Heli with some good exposure.
Bstow in the Gold Coast Bulletin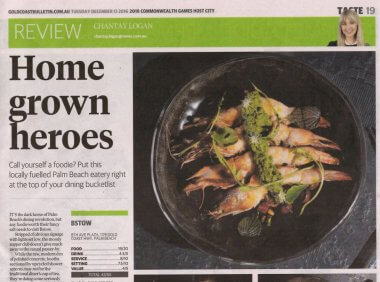 Owners of Feather and Dock's cafe in Palm Beach, Vaughn and Rhiannon recently opened Bstow – a fine dining restaurant in Palm Beach. It has proved extremely popular and earned a brilliant review in the Gold Coast Bulletin recently.
Head down and try it if you haven't already, Head Chef Dan uses fresh, local produce and the menu changes often.
Local Legends Beef Jerky in Food&Beverage Magazine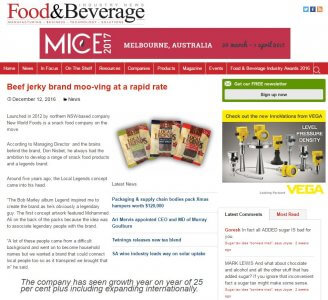 Local Legends Beef Jerky came about when Managing Director of New World Foods Don Nibet decided to develop a brand based around the concept of legends after being inspired by the Bob Marley album Legend.
Food&Beverage Magazine published a story on Local Legends growth over the past four years including grassroots marketing involving local AFL teams.
The Shoe Garden in Sunday Life and  Daily Life – SMH, The Age and Brisbane Times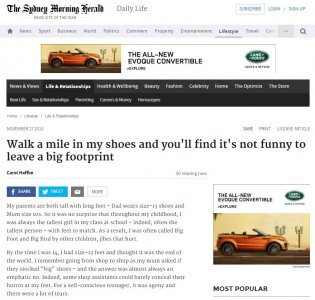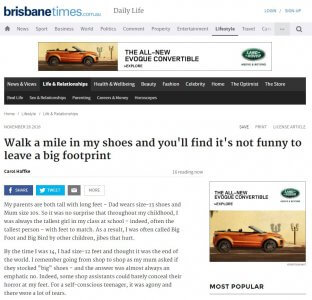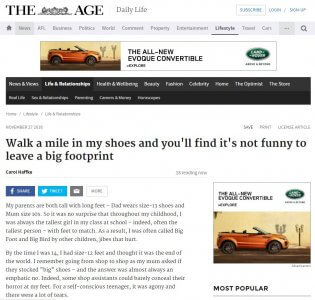 Carol Haffke at The Shoe Garden was featured in both Sunday Life and online in the Sydney Morning Herald – Daily Life over the weekend. Carol wrote a feature piece on her experience with long feet and her reasons for opening the boutique store.
ABC Brick Sales in Far North Coaster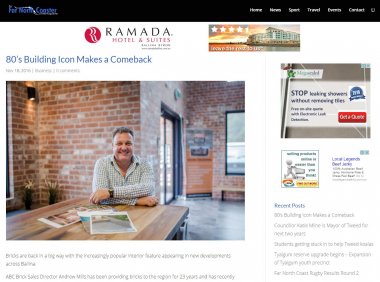 ABC Brick Sales was featured on Ballina's Far North Coaster magazine in an article on the increasing popularity of bricks and the businesses 23 year history in the region.
Elite Holiday Homes in The Australian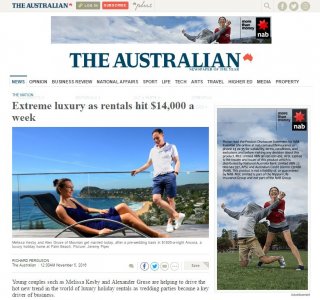 Elite Holiday Homes was recently featured in an article on the increase in Australians choosing to stay in luxury holiday rental properties in national newspaper The Australian. The article mentioned couples and families choosing to stay in the homes for a more personal holiday experience. A great mention for Elite.
The Shoe Garden on Kochie's Business Builders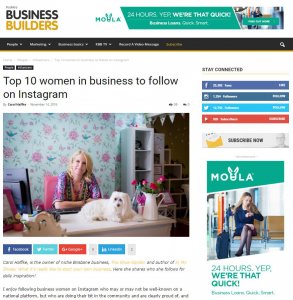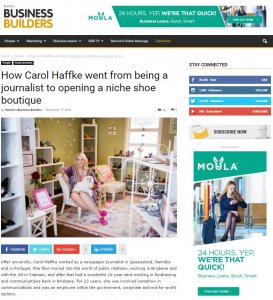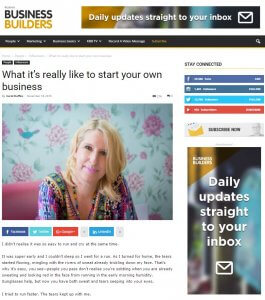 The lovely Carol Haffke, owner of Brisbane's niche shoe boutique The Shoe Garden, recently released a book titled In My Shoes: what it's really like to own a business. Kochie's Business Builder featured Carol in an article on her top ten women in business to follow on Instagram.
Another article was published on Carol's business journey from a high-flying Publicist and Journalist to the owner of a shoe shop for women with longer feet. The Q&A style article outlines Carol's advice, motivation and love of owning a small business.
An extract from Carol's book was published most recently.
Elite Holiday Homes on Metropolist Gold Coast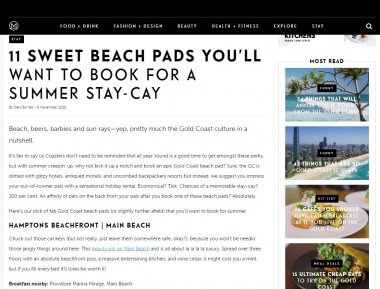 Elite Holiday Homes were featured in a local story on Metropolist talking about beach pads that are perfect for a staycation. Hamptons Beachfront in Main Beach was the Elite property showcased.
Seajay Mortgage Brokers in the Gold Coast Bulletin

Catrina Keft of Seajay Mortgage Brokers recently won the PLAN Australia Queensland Rising Star award. The coveted accolade is presented to brokers who often go on to become the best in the country. We secured a story for Catrina on her success in the business section of the Gold Coast Bulletin.
fisiocrem in My Business Magazine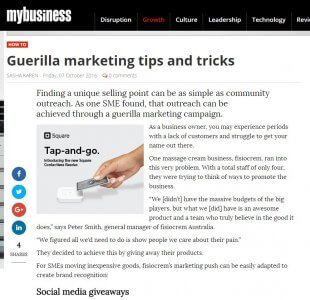 Through our work with them fisiocrem has activated some unique guerilla-style marketing campaigns using small budgets but rivaling the campaigns of other brands in the industry. My Business Magazine featured an article on fisiocrem's campaigns over the last few years including a on-air feud with Hamish and Andy, community outreach and event signage. A great article displaying the benefits of thinking outside the box.
ABC Brick Sales in the Coffs Coast Advocate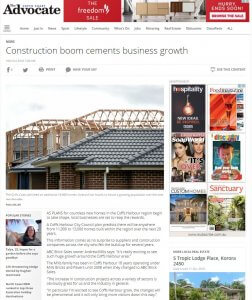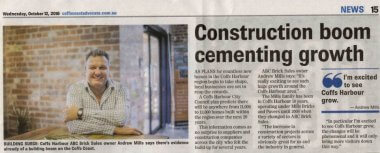 ABC Brick Sales featured in their first piece of interstate coverage recently with an article on the construction boom in both the print and online versions of the Coffs Coast Advocate. The business delivers up and down the east coast from the Sunshine Coast to Coffs Harbour. Director Andrew Mills commented on Coffs Harbours' construction boom and its effect on local businesses and suppliers.
Local Legends in Food & Drink Business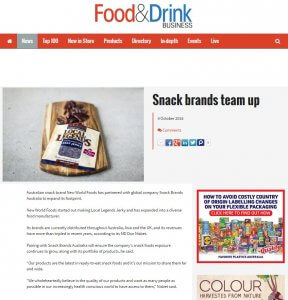 New World Foods recently teamed up with Snack Brands Australia as the new distributor of their infamous Local Legends beef jerky. Our first piece of coverage for the brand, New World Foods and Local Legends appeared in Food & Drink Business which is the perfect targeting for their businesses.
Allure on Currumbin on the Weekend Edition
Allure on Currumbin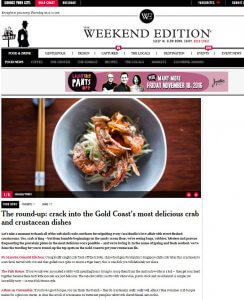 also featured on the Weekend Edition in a feature on the Gold Coast's best crab and crustacean dishes. The Weekend Edition is an online weekly magazine showcasing the best the Gold Coast has to offer. This is the first feature in the publication for one of our clients.
Allure on Currumbin in the Gold Coast Bulletin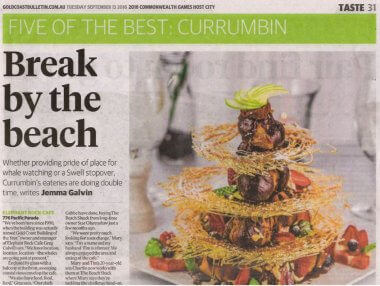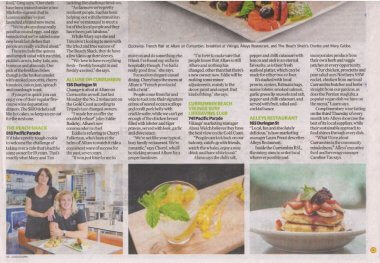 Allure on Currumbin secured a spot in the Bulletin's Taste section over the weekend in a feature on five of the best Currumbin restaurants. Focused on elegant casual dining, Allure has recently changed hands and we're excited about the changes afoot.
Family Clean in The Huffington Post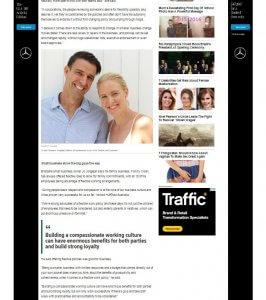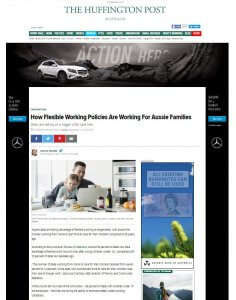 Family Clean featured in an article on flexible working policies for Australian families in The Huffington Post recently. The Brisbane based business was included due to their policies on flexible family working arrangements. Owners Jo and Rowena pride themselves on having built a compassionate working culture. The piece is Family Clean's first national coverage.
fisiocrem on Hamish and Andy (many, many times)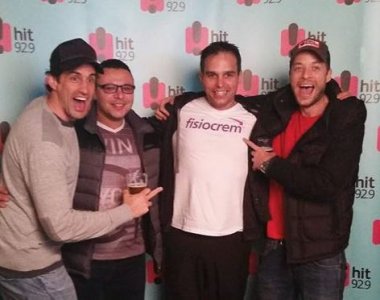 Don't you just hate it when the guys of Australia's most popular ever radio show talk about you just about every week for about 5 minutes?? Yes, we don't either!
Hamish and Andy referred to the caps of our client fisiocrem countless times, telling their one million plus listeners how terrible the caps are but how brilliant the cream is.
We responded in kind with a various jabs at the popular pair including a "Two Can Play That Game" competition where first prize was a fisiocrem cap, second prize a stuffed Cane Toad and third prize a Hamish and Andy DVD!
The 'feud' culminated in a song about the crap caps and months of mentions on one of the highest rating radio programs in the country. This was the most widespread coverage we've ever seen come off and resulted in millions of people hearing about fisiocrem and how beneficial it is as a pain relief cream.
Sunkids Children's Centres in the Gold Coast Bulletin

Sunkids Children's Centres opened their 13th centre in south east Queensland in August and their second on Scottsdale Drive in Robina. The centres aim to provide a holistic education a build a community and sense of belonging. The Gold Coast Bulletin featured the growth of the business and outlined the unique offerings of the centre in their first news feature.
Family Clean on Kids in the City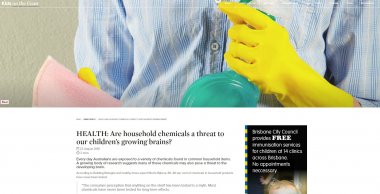 Family Clean are passionate about the health of families and in particular, children. An article on the effect of household chemicals on children was published on Kids and the City outlining the potential effects and Jo and Rowena's personal experience. A great little win for their business.
ABC Brick Sales in the Gold Coast Bulletin
ABC Brick Sales

celebrated their first birthday in the new Arundel premises last week after a year of record expansion. The Gold Coast Bulletin printed an article on the milestone and the country's current construction boom.
The Cove in Escape – print and online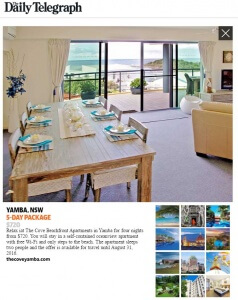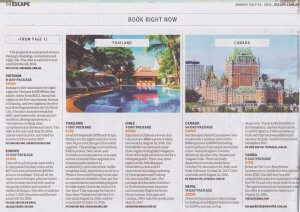 Our Yamba accommodation client The Cove Beachfront Apartments featured in the highest circulating travel publication in Australia – Escape – over the weekend in the deals section with a winter stay package.
Elite Holiday Homes on ninemsn's elsewhere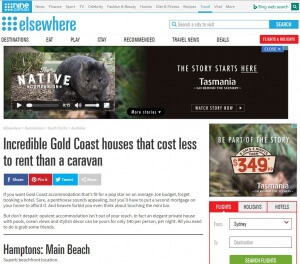 Elite featured in a story on Gold Coast houses that cost less to rent than a caravan park off the back of story idea we went to the Editor.
The article resulted in the highest traffic to the website Elite has had since launching and one or two (we ain't telling you the exact number …..but it was more than 2!) booking enquiries.
Special Needs Solutions feature in the Gold Coast Bulletin

Special Needs Solutions snagged a feature in the Gold Coast Bulletin for their attempt to get Chris Hemsworth to visit the sick children at Gold Coast University Hospital!
Stay tuned to see if we managed to make it happen.
Elite Holiday Homes in the Gold Coast Bulletin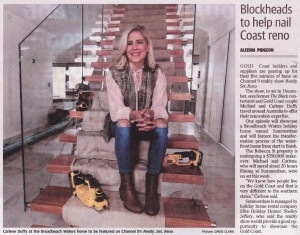 Ready Set Reno has been on the Coast throughout July filming the renovation of one of Elite Holiday Homes properties for an upcoming episode.
The Gold Coast Bulletin ran an article over the weekend featuring the home and host Carlene Duffy of The Block fame.
ABC Brick Sales on Channel 7 News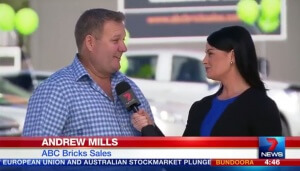 Andrew Mills (AKA the greatest boss in the world) of ABC Brick Sales recently surprised his staff with brand new cars as a reward for their loyalty and hard work.
Channel 7 Gold Coast went down to film the action and the story was aired nationwide. Excellent coverage for Andrew and the team.
Special Needs Solutions in Kids on the Coast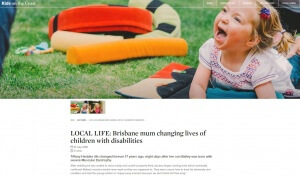 We've recently started a PR campaign for Special Needs Solutions – a progressive Brisbane company, led by Tiffany Heddes, specialising in the distribution of paediatric equipment to a wide range of children with disabilities.
Our very first pitch secured a spot in Kids on the Coast's Local Life section with a story on the National Disability Insurance Scheme and how it affects the families Tiffany and her team work with. A very exciting and timely feature for the business and for us!
Elite Holiday Homes in the Courier Mail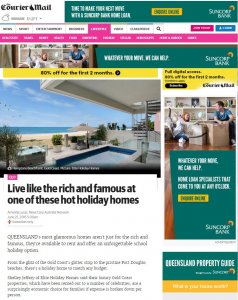 Elite received extensive coverage in a Courier Mail article titled 'Live like the rich and famous at one of these hot holiday homes'. Including quotes from owner Shelley and an image and overview of Hamptons Beachfront, the article is a great piece for Elite.
Tailored Media in the Gold Coast Bulletin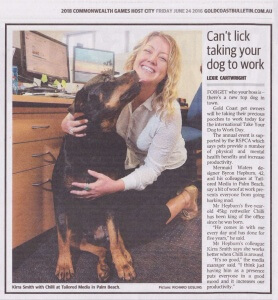 Tailored was featured in the Gold Coast Bulletin's Take Your Dog to Work Day article.
Our favourite staff members Kirra and Chilli represented the team in the article and photo – some great local publicity for us!
Elite Holiday Homes in the Courier Mail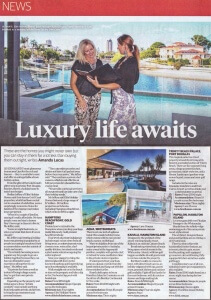 Elite was again featured in the Courier Mail for a piece on luxury holiday homes.
The article included an extensive write up on the business, their Hamptons Beachfront home and a beautiful image to accompany it.
It's so exciting to see Elite being featured across such highly circulating publications.
Elite Holiday Homes in Traveller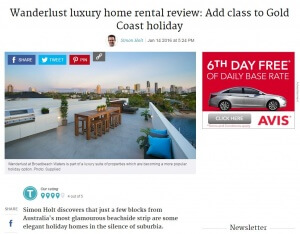 Traveller wrote a shining review on Elite Holiday Homes Broadbeach Waters property Wanderlust. Editor Simon Holt stayed in the waterfront property overnight and had nothing but positive things to say.
Elite Holiday Homes in The Sunday Mail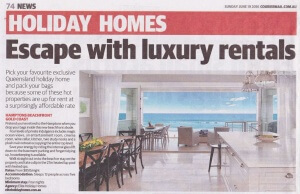 Elite Holiday Homes appeared in The Sunday Mail recently with an exciting spot in the news section.
The mention features beachside property Hamptons Beachfront in a full page article on holiday homes.
This is a great piece of coverage for Elite in a high circulating publication.
BIS Cosgrove in Get it Magazine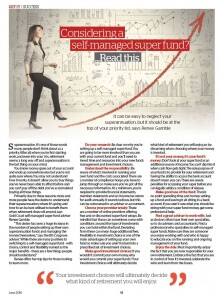 BIS Cosgrove's Renee Gamble is sharing her expertise on Self Managed Super Funds in the June print issue of Get it Magazine. The full page article features Renee's advice on what to think about when considering a SMSF and is the perfect coverage for the financial advisors.
The Cove in The Daily Examiner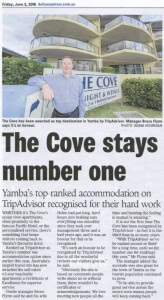 Yamba holiday apartments The Cove  has secured some great coverage in local newspaper The Daily Examiner to celebrate their recently awarded Certificate of Excellence for superior service from travel website TripAdvisor. An exciting piece of coverage with many more to come.
The Shoe Garden in The Huffington Post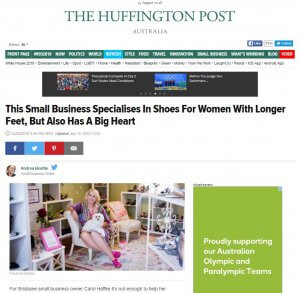 The lovely Carol Haffke and her business The Shoe Garden featured on Australia's The Huffington Post news site in a brilliant article highlighting Carol's efforts to raise money for the MicroLoan Foundation Australia.
Carol's business specialises in shoes for women with long feet. Her beautiful boutique has been open in Brisbane for just over four years.
ABC Bricks in the Gold Coast Bulletin

Andrew Mills of ABC Brick Sales was featured in the Gold Coast Bulletin in early May for a profile piece on his rise to becoming the largest distributor of bricks, blocks and pavers in Queensland.
A great first piece of coverage for ABC Bricks from our PR team.
Tailored Media on Inside Small Business
Our CEO was featured on Inside Small Business discussing the real power of social media – one of his many areas of expertise.
The real power of social media lies in knowing your business in depth and being willing to share that knowledge with the online world.
With millions of Australians connected to one platform or another, social media has rapidly become one of the most powerful tools small businesses can use to grow. Read his lessons learned here.
The Shoe Garden in the South East Advertiser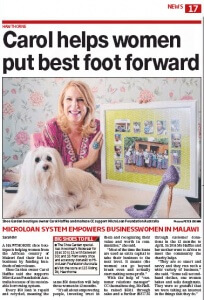 The beautiful Shoe Garden was recently featured in local community newspaper the South East Advertiser!
The article discussed Carol's recent money raising ventures for The Microloans Foundation Australia – she raised over $12k.
See the article and lovely image of Carol and CC below.
Family Clean share their small business start-up tips with Inside Small Business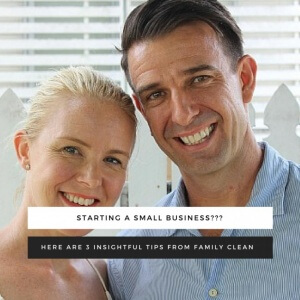 Our clients inspire us every day! Jo and Rowena started Family Clean 11 years ago and have achieved very impressive results.
They sat down with Inside Small Business to share some insightful tips which are sure to help anyone considering a start up business.
Head to Inside Small Business for all the tips.
The Shoe Garden features on Inside Small Business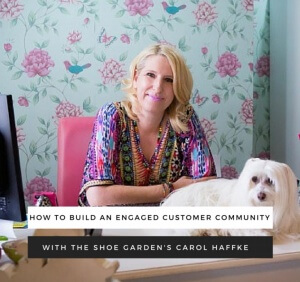 Carol Haffke from The Shoe Garden sat down with Inside Small Business to share her tips on How to Build an Engaged Customer Community.
Enjoy the read here.
Elite Holiday Homes on the Today Show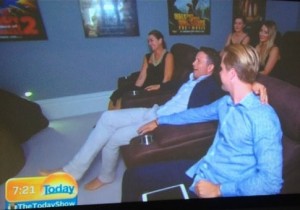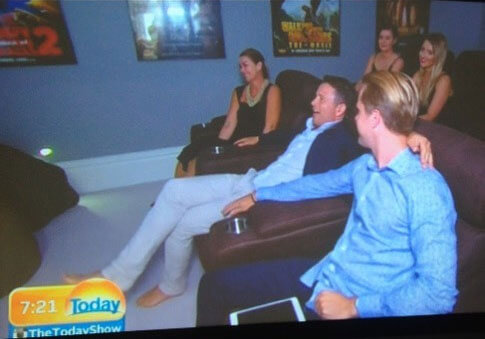 Our client Elite Holiday Homes appeared on the Today Show in November 2015 for four weather crosses in the Hamptons Beachfront home.
It was huge coverage for them and us (and quite fun too)!
See the Case Study
Family Clean on Ten News
Family Clean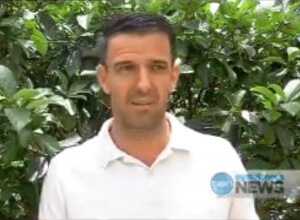 is a Brisbane-based, family-owned cleaning company who appeared on the news to talk about their cleaning contractors all hailing from abroad. An excellent first piece if coverage for them.
See the Case Study
Elite Holiday Homes in the Gold Coast Bulletin

Elite Holiday Homes owners Shelley and Steve Jeffery were featured in the Gold Coast Bulletin's business pages in December of last year. A good little piece in the local news.
See the Case Study
Family Clean in Westend Magazine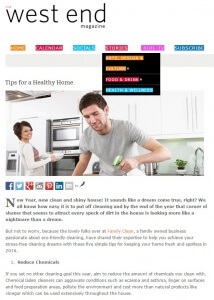 Family Clean scored a story in Westend Magazine online in January discussing how to stay on top of your house cleaning throughout the year.
Westend Magazine is the perfect placement as their business operates primarily in Brisbane's inner city.
BIS Cosgrove in the Gold Coast Bulletin
Our client BIS Cosgrove appeared in the Gold Coast Bulletin's business pages to discuss the rise in women choosing self-managed super funds.
See the Case study

Family Clean in The Good Guide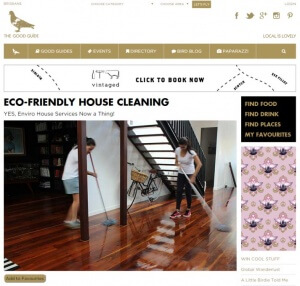 Family Clean appeared in Brisbane's The Good Guide featuring both on the website and in their newsletter.
The perfect publication for Family Clean, The Good Guide features only businesses that align with their philosophy. Great news for us and Family Clean.
See the Case study
Elite Holiday Homes in the Gold Coast Bulletin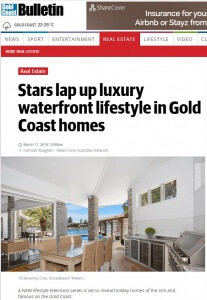 The Gold Coast Bulletin featured a story on Elite Holiday Homes and their segment on television show Dream Home Ideas in early March.
Another great story in our local Gold Coast Bulletin.
Elite Holiday Homes in Daily Telegraph, Courier Mail, Perth Now and Herald Sun
Elite Holiday Homes on the Gold Coast featured in both the Daily Telegraph and the Courier Mail with the story on their appearance on Dream Home Ideas. Widespread coverage in two of the countries most read publications.
Save
Save