Looking for a simple – and inexpensive – survey tool for online use?   Then One Minute Poll is the answer for you.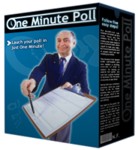 One Minute Poll is a web-based survey tool designed to be simple and easy to use – for both the person setting it up and the person taking the actual online survey. But don't be fooled into thinking simplicity equates to shoddy performance – this is an excellent tool at a bargain basement price.
Offering various price entry points – we're signed up for the Bronze Plan that provides unlimited surveys for 1 full year, with a maximum of 250 responses per survey (one of the team here is a Psychology Graduate and tells me that, statistically speaking, 250 responses is more than enough) – One Minute Poll is an online survey that takes just minutes to set up.
Simple Interface To Set Up Survey
Once you subscribe to the service for 1 year you are given a username and password. From there it's child's play.
With your login details you'll be taken to the very simple web-based interface for developing your survey (or surveys. Remember, you have unlimited surveys if you need them.).
Step 1 is creating your survey – an easy 5 step online process that, especially if you already know the questions you'll be asking, will take probably 7 minutes at the most.
It's a simple matter of naming your survey, typing in the questions and selecting the answer format (if it's multiple choice or a rating you need to type those in too of course).
Answer Format Options
One of the features I particularly like with One Minute Poll is that it provides a range of format options for the answer. That is the answer can be any or all of the following:
Text Answer
Multiple Choice – respondee can only select 1 possible answer
Multiple Choice – respondee can select 1 or more possible answers
Rate the given answers in order of importance
Answers can be made mandatory
Then you just enter some text for what you want to appear on the 'Submit The Survey' button, decide if you want to redirect respondees to a 'Thank You' page and choose a colour scheme for the survey design.
Like I said – it's easy!
It's been our experience with online surveys that they need to be incredibly simple, easy and quick to complete – otherwise your visitor just won't bother. You want a survey that delivers – this online solution does just that!
Test & Deploy Your Survey Online
From there you can test that your survey works exactly how you want it to. Once you're happy with that, you simply copy the code provided onto the page you want to have your survey on. Put it online and your survey is done.  Told you it was easy 😉
Survey Results Displayed Online in Realtime
Every time someone responds to your survey, One Minute Poll will automatically collect and store the responses for you online. To view these responses at anytime you login and just select the 'Responses' option from the menu bar at the top of the page.
The results are displayed in a logical manner in realtime – everything is there. Responses, text answers, email addresses of respondees (if you asked for them) – all there nicely tabulated and colour-coded.
The subscription to One Minute Poll also comes with a 30-day 100% money back guarantee.
Check them out for a very easy, cheap and comprehensive solution for doing online surveys.