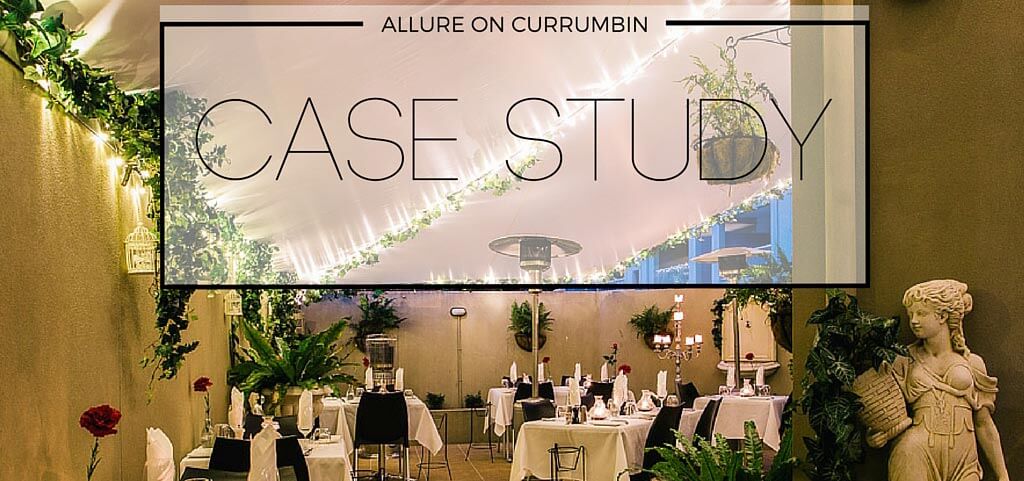 The Challenge
Allure On Currumbin is a small elegant French restaurant situation in Currumbin – a 30 minute drive from all the tourists and big fancy restaurants in Surfers Paradise and Broadbeach on the Gold Coast.
As a moderately expensive restaurant, Allure's target market includes tourists – therefore the challenge was to attract tourist attention and lure tourists to travel the distance to experience Allure On Currumbin.
The Tailored Solution
Grow Allure On Currumbin's reputation and get them highly ranked on Trip Advisor – the number 1 most used tourism review and referral platform.
How We Made It Happen
We skyrocketed Allure's reputation in four ways:
We carefully and strategically respond to every single review posted about the restaurant on Trip Advisor. On average, customers read 11 reviews before making a decision, so the brand response to positive and negative reviews is critically important. Our strategy is to push and reinforce positive marketing messages, while managing and combating any negative reviews.
We coach Allure's staff on how to attract positive reviews from customers
Allure's ranking on Trip Advisor soared, and they became rated #2 restaurant in Australia in 2015, and are consistently ranked #1 for the Gold Coast.
We capitalized on their Trip Advisor ranking, and gained massive national media exposure:
The Results
A huge number of bookings generated by Trip Advisor
Massive media exposure resulting in an enormous spike in website visits, and consistently more website visits in the following months
An immaculate reputation, resulting in an increase in word-of-mouth bookings.