I'm a huge fan of doing a survey of your previous customers for a whole range of reasons:
Gathers great information on how your business is doing
Is a great way to connect (or reconnect) with your customers
It gets you top of mind with your customers (and that means repeat sales and more referrals)
How To Build Your Survey & Other Great Tips
Firstly, you need to build your survey – here's a brilliant tool that we use and it's less than $50 per year to use.  With an hour or 2 you can have your account up and running and your newsletter built.
To increase the number of responses to your survey, offer a prize that gets drawn for all survey respondees.  Easy!
Send your survey link to your customers – here's a brilliant newsletter solution we use for sending email newsletters.  It's free for up to 2,000 subscribers.  Within an hour or 2 you can have your newsletter written and sent.
Day 1:  Email sent – Please do survey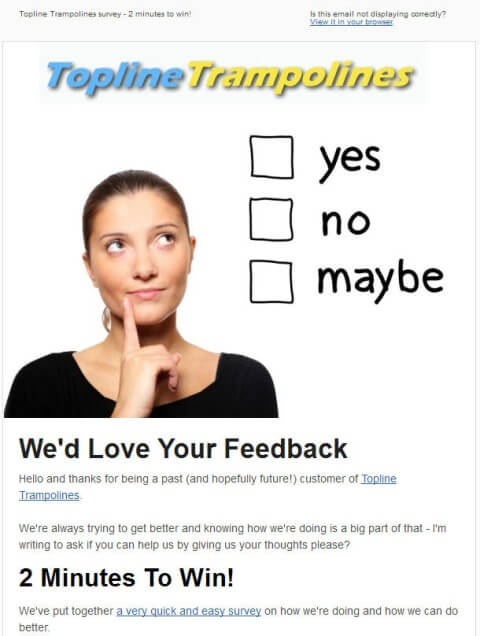 So great, you've written your newsletter, built you survey and sent it to your previous customers.
The responses will come in fast at first and then trickle off.  We generally have a deadline of 8-9 days before we draw the prize for survey respondees.
So we have the initial responses.  Cool.
Not Just A One-Off Request
Now we get smarter.  You see, we know that people will soon forget about the survey request.  So we give them a gentle reminder or 2.
Day 6:  Email sent – Reminder to do the survey
Day 8:  Email sent – Final reminder to do survey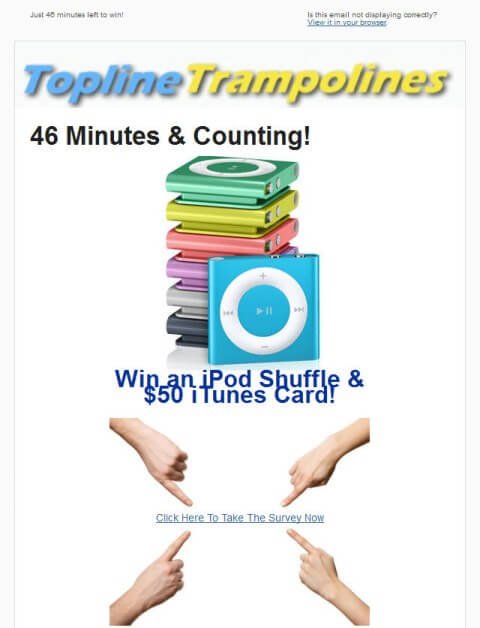 About Drawing The Prize
Then it's time to draw the prize.
But don't think of it as "drawing the prize".
Think of it as an opportunity to build your brand, differentiate yourself to your market and be seen as whatever you want to be seen as, whether it's:
fun or
innovative or
reliable or
trustworthy or
quirky or
creative etc
Remember that every contact you have with your target market is an opportunity to build your business and make yourself memorable.  That'll lead to more sales.
It's best if the way you draw your prize makes sense with whatever you do.  Here's a prize draw we with a transport company:
Day 8:  Email sent – Winner of survey participants announced and everyone thanked for their responses (the email directs the person back to the web site to view the competition draw)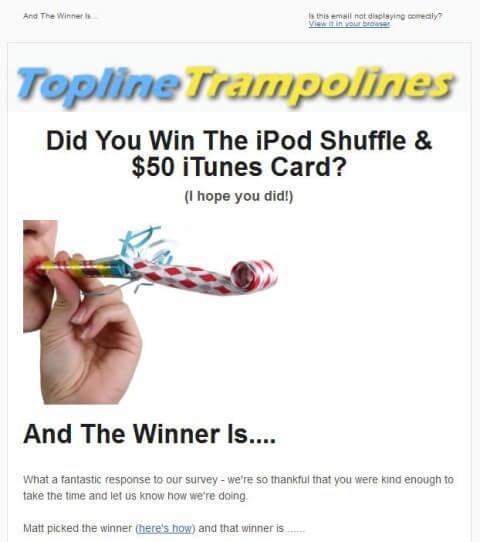 What's Next?
Next up is reviewing the great data you've received and, most importantly, directly and personally connecting via phone or email appropriate survey participants.
What I mean by that is you should connect with customers
Your Business Is Now Top of Mind & You Have Some Great Info
You've now had between 3-5 very positive and professional communications with your customer in about 10 days.
You are top of mind.
You are perceived as consultative.
You are seen as innovative.
You are seen as caring (the biggest reason people will stop being your customers is because they think you don't care about them).
Even More Benefit
There's even more benefit.  You now have a whole bunch of testimonials you can use and you have a list of people who are delighted with your service or product.
And I'm sure that list of people would be happy (if you asked them) to do reviews about you on Google, Trip Advisor, Facebook or anywhere that's relevant to your business.
A survey isn't just a survey.  It's a whole marketing strategy by itself.
Hope that helps and if we can help building your database, writing up your survey or developing or writing your e-newsletter we'd be delighted to have a chat.
Contact Us Now For Obligation Free Chat
Contact us on 07 5534 1228 or use the form below: