If you're not subscribed to Tailored News (you can by sticking your email address in the field top right of this page – it's 100% free) then odds are your certifiably insane.
And yes, that's a medical opinion from me ;o)
I've just sent out the latest edition titled "Marketing Disaster – $320 Per Night to Be Slagged Off!"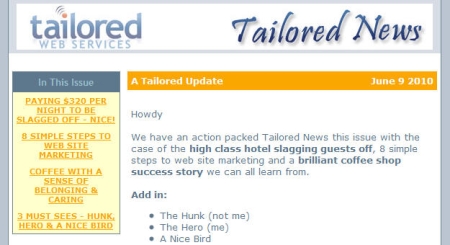 Newsletter & Blog Archives
I also have a bunch of old newsletters here.
And don't forget you can check out over 7 years of Tailored blogs here.
If you don't want to read 7 years worth right now ;o), you might like my 3 most popular posts ever:
Cheers
Brendon
Cheers