A great way to demonstrate your expertise in any sort of business is via social proof.
That is, other people talking about you.
It's why we use:
on our client's sites.
Telling people how great you are is always better when it comes from someone else.
The Power Of Social Proof
I just saw another great example of the power of social proof.
I just dropped my car in to be serviced at Jimbos, a mechanic on the Gold Coast where I live.
Now, Jimbo's a young guy who is up with the latest and greatest in terms of car mechanics.  He's done a ton of extra training too.
An Honest Mechanic
Jimbo has a reputation as that rarest of beasts – an honest mechanic (Angry mechanics please make a line over there! ;o)  ———–>)
He also has a reputation as a quality mechanic.
When I dropped my car off there was a Ferrari in Jimbo's garage waiting to be attended to – you see, Jimbo services pretty much all the Ferrari's on the Gold Coast.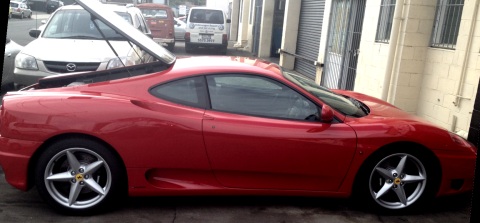 All the driver's have heard how good he is and they make a beeline straight to him because he's expert and experienced.
Anyway, the point of my story (I'm getting there) is that while I was at Jimbos, I chatted with a guy who brings his car in to be serviced by Jimbo because he assumes he's the best because he services all the Ferraris.
The "best" is a very subjective thing, but it's a fair bet that a guy with hundreds of thousands of $$$ worth of cars sitting in his mechanic shop driveway is pretty close.
Cheers
Brendon
Cheers