A reader contacted me yesterday to ask for a Free Report from my Free Info & White Papers section of this web site.
Seems as though the link to the Free Report was broken.  Once I got over the shock of having made a mistake (took me a while) I found the file and sent it through to him, then I fixed up the broken link.
Lessons From 2004 Still Hold True
The Free report this guy asked for is called "10 secrets of successful web sites".
It's a report I wrote back in 2004 on what I saw as the keys to a successful site.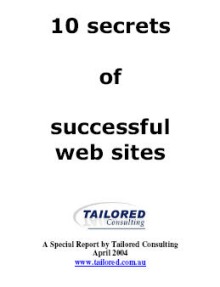 Bearing in mind the report is almost 6 years old, everything is still pretty much spot on – which means I'm a prophet, as well as being smart and very, very attractive.  And funny.  Don't forget funny.
The only real change I'd make is to recommend Google Analytics for your web site statistics program and to say that large file sizes don't matter so much in this day and age of fast connections.
So if you're wondering what makes a successful web site, my Free Report (no registration required) could give you a few ideas.
Cheers
Brendon
Cheers