Craig Harper is a self help kind of guy down there in Melbourne, Victoria.
Craig writes a brilliant blog on all things self improvement, runs seminars and does oodles of public speaking.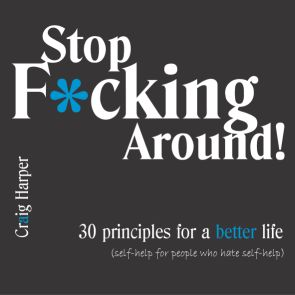 On the down side he has weak little girlie arms, isn't very smart and can't handle it when I speak the truth about him.
Anyhow, if there's one thing we might learn from Craig (and his right and left hand man Johnnie), is that branding matters.
And in branding matters, these lads know what they're doing.
So when Craig, the no-nonsense personal development guy writes a book about self help the title needs to be consistent with his brand.
So what would be a no-nonsense sort of book title that's consistent with the brand?
Yeh, that'll do it I reckon.
Nice work lads. And a nice example of a brilliant bit of branding (doesn't hurt that it's a controversial and in-your-face sort of title).
Cheers
Brendon
Cheers